Mar 11, 2020 (Last updated Aug 23, 2023) by Hannah Sunderani
Vegan Banana Pancakes
Here's an easy recipe for vegan banana pancakes. They are light, fluffy, and perfectly sweet. Made with just 10 ingredients; it's so simple to create.
Certainly, these vegan pancakes make for a great Sunday brunch with friends and family. Whether you're a vegan skeptic or a vegan veteran, everyone will love them! If you're familair with my blog, it's not my first time making a banana pancake recipe, nor a comforting vegan breakfast recipe for that matter! (If you haven't tried my vegan oatmeal waffles – you must!)
This recipe focuses on a classic banana pancake that is light and fluffy, with a few important tips to achieve this. So, let me tell you exactly how to make these vegan banana pancakes so you can enjoy them asap!
Vegan Banana Pancakes
The ingredients for light and fluffy Vegan Banana Pancakes
Only 10 ingredients are required for making these pancakes.
For this recipe you will need:
almond milk
apple cider vinegar
bananas
neutral oil (I like avocado oil)
coconut sugar
vanilla extract
all-purpose flour
baking powder
sea salt
cinnamon
It begins by making a vegan buttermilk; combining almond milk and apple cider vinegar. Pour the vegan buttermilk. Combine your wet ingredients with dry ingredients and stir into a smooth batter. Now you're ready to cook some light and fluffy banana pancakes.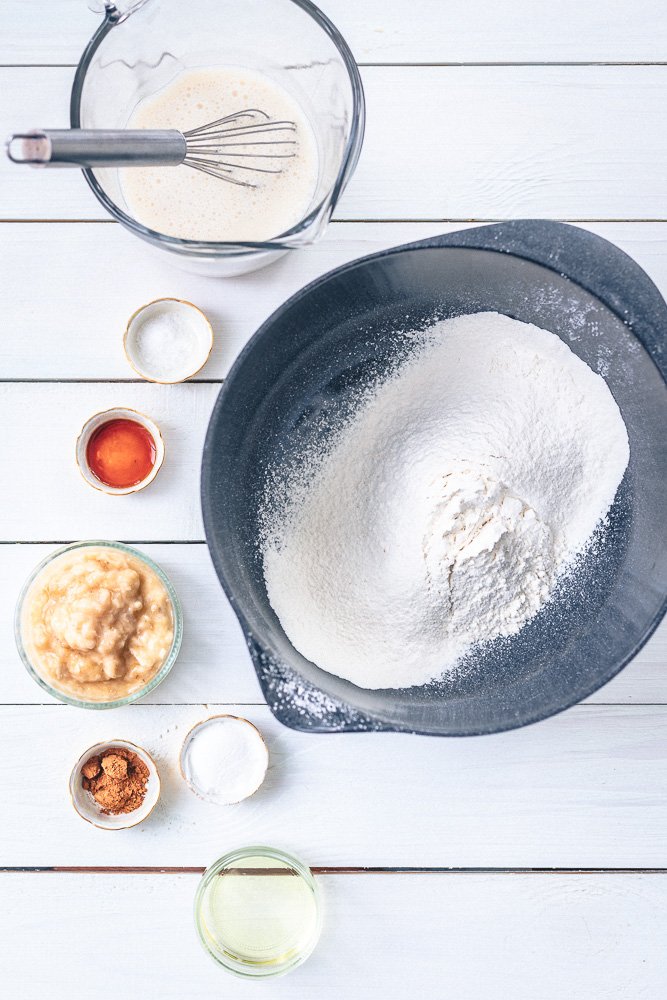 Tips for this recipe
Why use buttermilk in pancakes?
I don't have too many tips for mastering this easy recipe. However, I will say that using buttermilk (almond milk + apple cider vinegar) will give you much fluffier pancakes. That's because the acid from the apple cider ignites the baking soda to bubble; allowing for extra height.
In turn, this also helps break down the gluten in your flour for a more tender pancake. See more from bon appetit on using buttermilk in pancakes. Of course, we've opted in for a vegan version: making our own buttermilk with almond milk and apple cider vinegar. Nonetheless the result are the same.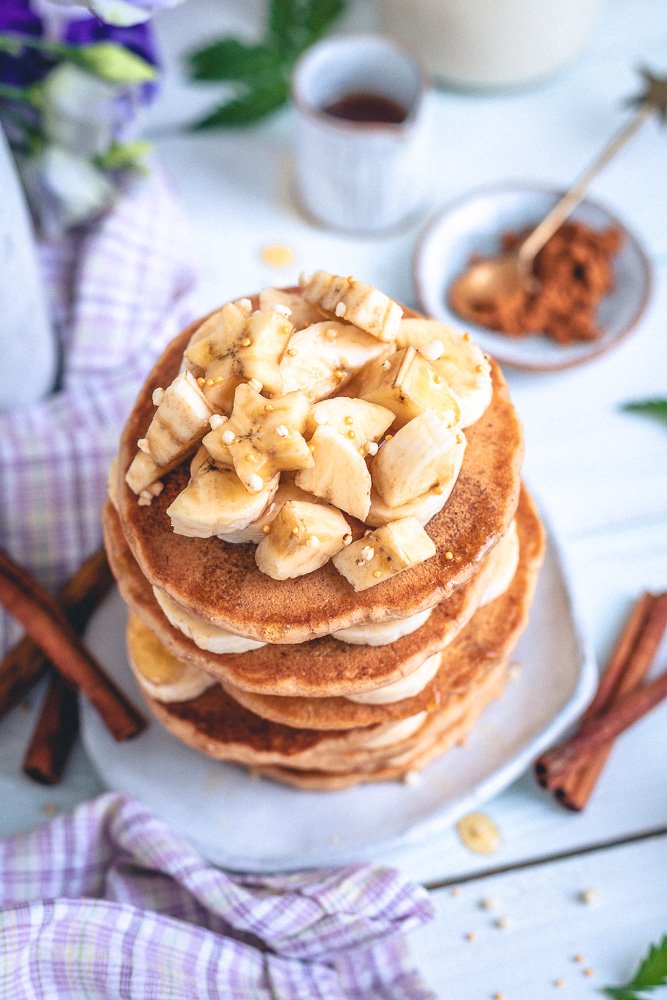 How to make pancakes light and fluffy
Firstly, using buttermilk over regular milk (vegan in both cases) will yield in lighter and fluffier pancakes. See notes above for the science behind buttermilk in this recipe.
Secondly, sifting your flour will also help in creating light and fluffy pancakes. Sifting adds air to the flour. It removes heaviness and clumps, and results in a lighter pancake.
In fact, my mum – who is big into baking – usually sifts her flour TWICE for lighter cakes and biscuits. And since she makes the fluffiest baked foods out of anyone I know; I can't argue with her method.
Other recipes you might like
If you're digging this pancake recipe, you might also like these pancake recipes:
Shop my kitchen
I'm often asked what items I like to use in the kitchen. So, I've included my favourites for making this recipe. In addition, you can find more of my favourite kitchen items on the shop page.
(Commissions earned as an affiliate. I only recommend products I know and love).

Calphalon Contemporary Hard-Anodized Aluminum Nonstick Cookware, Omelette Fry Pan, 10-Inch And 12-Inch Set, Black
Used to cook the pancakes
This is the spatula I used in this recipe, and many other of my baking recipes.
So, now you know how to make light and fluffy vegan banana pancakes. It's a simple recipe with just 10 ingredients for pancakes everyone will love; old or young, vegan or not. I hope you enjoy them as much as we do.
And, if you do make this recipe please let me know in the comments below what you think! I love hearing from you. And of course, tag me on Instagram with the hashtag #twospoons. Nothing makes me happier than to see your recreations.
1 1/2

cup

almond milk

1

tbsp

apple cider vinegar

1 1/2

cups

all-purpose flour

1

tbsp

baking powder

3

tbsp

coconut sugar

1/2

tsp

cinnamon

1/4

tsp

sea salt

1/2

cup

banana

mashed (about 1 large banana)

2

tbsp

neutral oil

(avocado oil or melted coconut)

1

tsp

vanilla extract

2

bananas

chopped (for serving)

maple syrup

(for serving)
Make vegan buttermilk: In a jug combine almond milk and apple cider vinegar. Let sit 10 minutes.

Sift all-purpose flour into large mixing bowl. Add baking powder, coconut sugar, cinnamon and sea salt. Mix to combine.

Pour vegan buttermilk into dry ingredients along with mashed banana, neutral oil and vanilla extract. Whisk to combine until smooth consistency. Cover and let sit at least 10 minutes to thicken.

Bring a non-stick skillet to medium heat. (Optional to lightly drizzle with oil to stop pancakes from sticking). Pour approx. 1/4 cup batter into the skillet and cook pancake for 1-2 mins, or until little bubbles form. Flip and cook the second side for 30 seconds. Continue until you've used all your batter.

Serve with freshly chopped banana and drizzle with maple syrup.
Do ahead: Pancake batter can be made the night before. Keep covered and chilled in fridge. Add splashes more almond milk if batter is too thick.
Nutrition information is a rough estimate. 
Calories:
136
kcal
|
Carbohydrates:
22
g
|
Protein:
1
g
|
Fat:
6
g
|
Saturated Fat:
1
g
|
Sodium:
193
mg
|
Potassium:
388
mg
|
Fiber:
2
g
|
Sugar:
11
g
|
Vitamin A:
25
IU
|
Vitamin C:
5
mg
|
Calcium:
164
mg
|
Iron:
1
mg