Best Mimosa Recipe
Want to know how to make the best mimosa recipe? Well, I'm sharing all the deetz on the blog today, so that you can make the perfect mimosa drink. Mimosas are a great celebratory drink. They are light, fizzy and easy to sip as you chat with your besties.
And, it's pretty much the only drink that's acceptable to have before 11 a.m.! So, let's start popping some bottles.
No doubt, this is an easy mimosa recipe that everyone will love. But there are a few tips/tricks to ensuring that you have the perfect sip every time. It all comes down to ratio and preparation.
Get the deetz below for making a flawless mimosa cocktail. Including how to make this mimosa recipe a pitcher for big crowds.
I've also included how to make this mimosa recipe non-alcoholic. (Great for non-drinkers or baby showers). No reason we can't all participate in the fun.
Now, let me share exactly how to make this recipe, so you can start sipping pronto!
The best mimosa recipe
Ingredients
You only need 2 ingredients for making mimosas: Sparkling wine and orange juice. It couldn't be more simple and straight forward! Now, some recipes will recommend to add Grand Marnier, but it's just not necessary.
And with just 2 ingredients, anyone can make this recipe. Which is why I've given it my newbie cook stamp of approval.
Although there are numerous variations for mimosas recipes, which offer a fun spin on the classic; as per usual, I find the classic mimosa recipe the winning combo. It's popular and dependable.
So, here's what you'll need.
Sparkling wine
Turns out, the best champagne for making mimosas is not actually Champagne! Instead, it's sparkling wine.
But good news for us! Because Champagne is pricey! So save those expensive bottles for special occasions sans orange juice, and opt-in for sparkling wines to make mimosas.
In fact, when I was living in France we went to Champgne for the weekend. And I mentioned during a tour at Ruinart that North Americans make mimosas by mixing Champagne with orange juice.
Well, the look of shock and horror is forever etched in my memory as I fully insulted the history and cachet of French bubbly.
Moral of the story: forgo Champagne to make mimosas, and choose sparkling wines instead. None will be the wiser, and you'll remain on speaking terms with Champagne enthusiasts.
My favourite sparkling wines are Prosecco (from Italy) and Cava (from Spain). More specifically, I like the Prosecco brand Bottega, from Italy, to make mimosas. It's well priced, dry, light and bubbly.
Orange Juice
When it comes to orange juice, my favourite type is freshly pressed. You can easily make fresh orange juice yourself with a few ripe oranges (my preferred method). Or, most grocery stores sell it fresh pressed. Ask a cashier for help and I'm sure they will direct you.
No doubt, fresh orange juice simply tastes better to store bought! It's sweeter, and lighter, and even looks more real! Plus, there's no extra flavouring, sugars or added preservatives. You're getting the sweet juice straight from the orange.
How do you make a mimosa?
Making the perfect mimosa drink is all about the ratio.
Now, the biggest mistake I see in mimosa making is using a 1:1 ratio (orange juice to sparkling wine). I.e. filling up half the glass with orange juice, and finishing the other half with sparkling wine. Don't do this!
Adding too much orange juice to your mimosas will leave your drink too flat, too sweet, and too heavy.
Ratio:
The best ratio for making mimosas is a 1:2 ratio (orange juice to sparkling wine). So, filling your glass 1/3 full of orange juice, and topping the rest with sparkling wine. This is the optimal ratio for achieving a mimosa drink that's bubbly, refreshing and light.
Other tips for this recipe:
Other tips for ensuring you've got a delicious bubbly mimosa:
Make your mimosa just before serving. Not in advance. Your mimosa will get flat over time, so it's best to make when you're ready to sip!
Angle your glass as you pour. This will stop the sparkling wine from bubbling over and spilling. And will keep the bubbles contained in your glass.
Don't stir! Stirring releases bubbles. So best to avoid.
Don't add ice! If possible, avoid adding ice. It releases fizz and waters down your drink. Refrigerate ingredients in advance so it's well chilled.
Garnish is optional. Okay, this has nothing to do with bubbles. But I like to add a slice of orange to fancy up a glass. Plus, I love eating the infused slice at the end.
Make this mimosa recipe a pitcher
Certainly, you can turn this mimosa recipe into a pitcher. Which is great for when you're entertaining a large group.
However, keep in mind that once you pop that bottle the bubbles start to dissipate. So, it's best to make your mimosa drink right before serving. Chill your sparkling wine and orange juice the night before, so it's ready for go-time.
Of course, you can make this mimosa drink before your party. But as I said, this mimosa recipe is easy and quick. So why not wait until your guests arrive? Plus, it's more fun to pop bubbly with an audience.
Remember, mimosas are for celebration! So, my recommendation is to wait until your guests have arrived and make the mimosas together.
I'm sure your friends will love taking part. Especially when it means an ultra fresh and bubbly mimosa.
Make this mimosa recipe non-alcoholic
Just because you don't drink alcohol, doesn't mean you should miss out on the fun. In fact, I love to make this mimosa recipe non-alcoholic for a delicious mimosa mocktail.
The trick is finding a good non-alcoholic sparkling wine. Then use as a direct substitute.
Personally, my favourite non-alcoholic Prosecco is by Gruvi. It's dry and bubbly, and honestly tastes so much like the real deal! Plus, I love their ingredient list – no sulphates and nothing scary.
Let your guests who don't drink participate in the fun by making a non-alcoholic version. Mimosa mocktails are also great for baby showers. The last thing we want is for the mother-to-be to feel left out from the party.
Other recipes you might like:
If you're digging this mimosa recipe, you might also like these: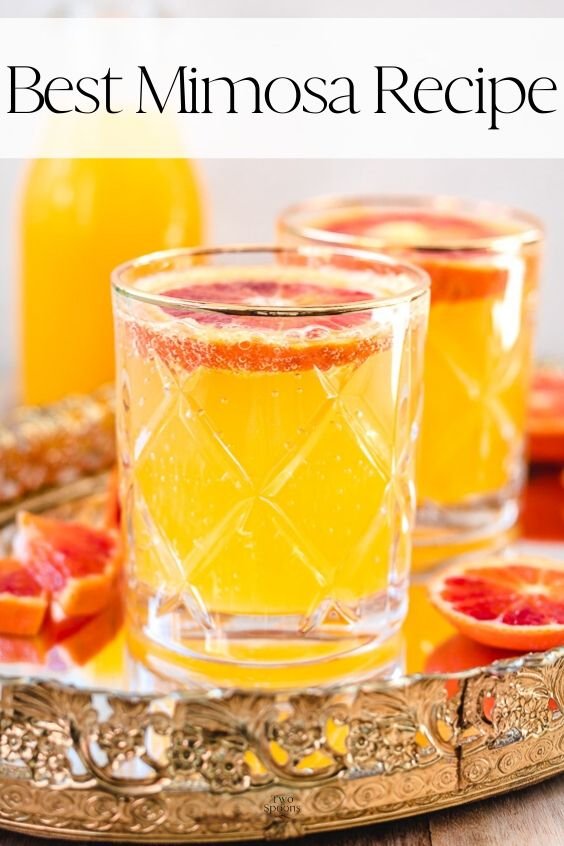 So, now you know how to make the best mimosa recipe. It's an easy recipe that anyone can whip together for a celebration.
Make in individual glasses, or pour into one big pitcher for large groups. Or, make this recipe a mimosa mocktail with the recommendations above.
Enjoy every bubbly sip of this easy to drink mimosa. And, if you do make this recipe please let me know in the comments below what you think! I love hearing from you.
And of course, tag me on Instagram with the hashtag #twospoons. Nothing makes me happier than to see your recreations.
3

cups

sparkling wine

750 ml/25.4 oz. - 1 bottle. (Prosecco or Cava), chilled

1

cup

orange juice

freshly pressed, chilled

1

orange

sliced (optional for garnish)
Pour orange juice into celebratory glasses (like Champagne flutes) to be 1/3 full. Top the rest with sparkling wine. (Hold glasses at a slight angle while pouring to stop the sparkling wine from bubbling over.) Optional to garnish with sliced orange wedges. Serve immediately.
See tips above for how to keep your mimosas light and bubbly.
Make this mimosa recipe a pitcher by adding the ingredients to a large pitcher instead of individual glasses. Make just before serving.
Make this drink non-alcoholic by subbing the sparkling wine with your favourite non-alcoholic version. My favourite brand is

Gruvi

.
Nutritional information is a rough estimate. 
Calories:
65
kcal
Carbohydrates:
6
g
Protein:
1
g
Fat:
1
g
Saturated Fat:
1
g
Sodium:
7
mg
Potassium:
170
mg
Fiber:
1
g
Sugar:
5
g
Vitamin A:
99
IU
Vitamin C:
24
mg
Calcium:
18
mg
Iron:
1
mg
VEGAN – VEGETARIAN – WHEAT-FREE – GLUTEN-FREE – RAW