Nov 12, 2019 (Last updated Oct 3, 2023) by Hannah Sunderani
Vegan Rice Pudding with Almond Milk (5-Ingredients)
Say hello to The Creamiest Vegan Rice Pudding you'll ever try, made with almond milk! It's healthy and super easy to make with only 5-ingredients: arborio rice, almond milk, maple syrup and lightly spiced with cinnamon and cardamom for a warming vegan breakfast recipe. There is no better bowl to cozy up to and indulge for breakfast or dessert than this vegan rice pudding.
Now let me tell you exactly how to make the creamiest vegan rice pudding with almond milk.
It's no doubt that this rice pudding recipe gives me all the warm and cozy feels. It was a staple recipe in my home as a child, which we would enjoy for breakfast or dessert. With a big dollop of jam you couldn't go wrong serving this sweet bowl.
Of course, my version growing up was a little less healthy than this recipe, nor was it vegan. Made using condensed milk and refined sugar, let's just say it wasn't quite on brand with the Two Spoons mantra. However, this recreation of The Creamiest Vegan Rice Pudding is just as sweet and creamy, yet much healthier. Made using creamy almond milk and maple syrup to sweeten.
The outcome is a much healthier alternative rice pudding, that is still lush and comforting. Serve this to any vegan skeptic and I've no doubt they will love it as much as the traditional recipe.
What rice to use for making the creamiest vegan rice pudding
When it comes to rice pudding, the type of rice used can vary from recipe to recipe. Some use long-grain white rice, some medium-grain. For me, I like to use arborio rice for extra creaminess and thickness.
Arborio rice is a starchy rice that's used to make risotto. And if you've tried risotto then you know just how creamy and thick this rice can be in texture and taste. Using arborio rice is a great way to get that velvety taste and chewy texture without going overboard on the cream. Instead I'm able to add classic plant-based (oat or almond) and still get that smooth creamy flavour.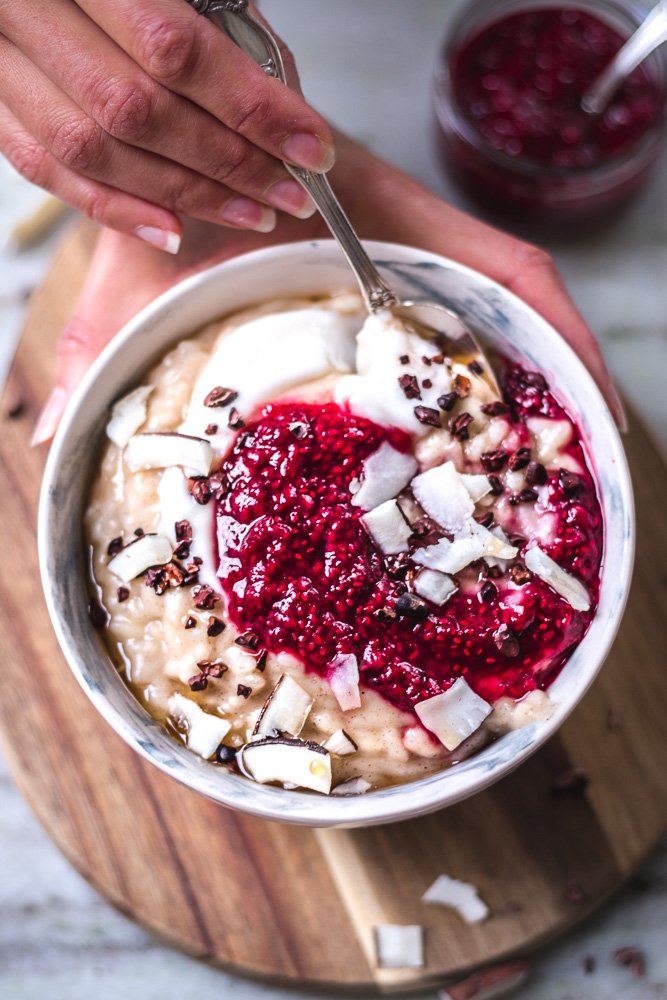 The ingredients
The ingredients for this recipe are very straight forward, and likely you already have them in your kitchen. For this recipe you will need:
arborio rice
plant-based milk of choice (oat or

almond

)
ground cinnamon
ground cardamom
maple syrup
I told you it's straight forward. Which is why I have given this recipe my newbie cook stamp of approval. There is nothing difficult or finicky about these ingredients or making this recipe.
For topping
As for the toppings, this is really what takes this rice pudding recipe to next level tasty. As a child I always enjoyed my rice pudding topped with jam. And I've done the same here topping the bowl with homemade raspberry chia jam.
I've also added a dollop of coconut yogurt for a little more creaminess, and some raw cacao nibs and coconut chips for some crunch. Drizzled with more maple syrup and you're looking at an ultra lush and decadent bowl.
Tips for how to make vegan rice pudding with almond milk
As I said, this recipe is pretty straight forward, but there are a couple tips to nailing this creamy vegan rice pudding.
The most important tip for making The Creamiest Vegan Rice Pudding is to stir often! Arborio rice is not like other rices where you can toss it in a pot and forget about it. Instead, arborio rice requires a lot of stirring to ensure the bottom doesn't stick to your pan and burn. It's a simple task, but one you have to abide by nonetheless. So keep close watch on your rice pudding, and stir often.
Another tip is to be generous with your liquid to water ratio. Arborio rice consumes a lot of liquid! For this recipe I've used 1 cup (240 ml) arborio rice and 3.5-4 cups (840 ml-960 ml) almond milk! Start with 3.5 cups (840 ml), and keep the almond milk close by in case you need to add splashes more. If you plan to eat this rice pudding cold, you will definitely need more milk as it solidifies more as it cools.
Other recipes you might like:
If you're digging this recipe for The Creamiest Vegan Rice Pudding, you might also like these recipes:
So there we have it. A super simple recipe for The Creamiest Vegan Rice Pudding you'll ever try. Enjoy for breakfast or dessert as a sweet and cozy treat. I think you're going to love it as much as I do.
And, if you do make this recipe please let me know in the comments below what you think! I love hearing from you. And of course, tag me on Instagram with the hashtag #twospoons. Nothing makes me happier than to see your recreations.
In medium saucepan stir together the rice, cinnamon, and cardamom. (This will stop the spices from clumping). Pour in the almond milk and bring to a simmer on medium-high heat.

Once simmering, reduce the heat to low and cook the rice, stirring often for 20-25 minutes, or until soft and pleasantly chewy. (Add splashes more almond milk as needed during cooking, if consistency is getting too thick for your liking). Once cooked, drizzle in the maple syrup to sweeten and stir to combine.

Scoop the rice pudding into bowls and top each with 1 tablespoon of jam, swirl it into the rice pudding. Optional to drizzle with more maple syrup to sweeten to taste.
Rice pudding will keep in fridge for up to 5 days. Enjoy hot or cold. When reheating it helps to add splashes more almond milk as the rice pudding thickens when chilled.
The recipe can also be frozen for up to 3 months. Store in air-tight containers. I like to portion the recipe out into 4 individual containers.
This recipe also works well with soy milk, coconut milk and oat milk. If using oat milk you can forgo the maple syrup and only add enough to taste (as oat milk is naturally sweet).
Nutritional information is a rough estimate, for the rice pudding without toppings.
Calories:
231
kcal
|
Carbohydrates:
47
g
|
Protein:
6
g
|
Fat:
3
g
|
Saturated Fat:
0.004
g
|
Polyunsaturated Fat:
0.01
g
|
Monounsaturated Fat:
0.01
g
|
Sodium:
158
mg
|
Potassium:
169
mg
|
Fiber:
2
g
|
Sugar:
6
g