Feb 16, 2020 (Last updated Sep 12, 2023) by Hannah Sunderani
Quick Blender Vegan Gluten-Free Waffles
If you're looking for the best vegan and gluten-free oatmeal waffles, this is the perfect recipe! This 8-Ingredient recipe is made with rolled oats, gluten-free flour, and creamy oat milk to make the best light, crispy, airy, naturally sweet and nutty waffles. And as if that wasn't reason enough to give them a try, this recipe takes just 30 minutes to make and comes together right in the blender.
They're a wonderful vegan breakfast recipe to enjoy with your loved ones on the weekend. There's certainly no better way to start the morning than a stack of warm, fluffy, homemade waffles that are made with ingredients you can feel good about the whole family indulging in. 
If you know my blog then you also know that I LOVE a good vegan breakfast! (I'm kinda known for my breakfast recipes). And when I'm not indulging in a quick mid-week breakfast like my vegan breakfast porridge or simple vegan pancakes than I'm cranking up the gourmet a notch with breakfast waffles! (There is nothing more weekend appropriate in my opinion).
So, let me tell you exactly how to make these oatmeal waffles so you can relax and enjoy them pronto!
These Oatmeal Waffles are….
Vegan
Gluten-free
Made with just 8 ingredients
Ready in 30 minutes
Kid-friendly
Freezer friendly
Make ahead friendly
Light and crispy
Ingredient Notes
Gluten-free flour: In order to keep these waffles gluten-free friendly, I developed the recipe using gluten-free baking flour. I recommend the brand Bob's Red Mill Gluten Free 1 to 1 Baking Flour. Using an alternative gluten-free flour can slightly change the end result.
Oats: ​Old-fashioned rolled oats are best. If you are celiac or serving these oatmeal waffles to someone with a gluten intolerance, be sure to purchase oats that are certified gluten-free.
Arrowroot starch: The secret to make the crispiest exterior on gluten-free waffles! I find arrowroot starch to be gentler on digestion, but cornstarch is another great option if you tolerate it well. Use them interchangeably in this gluten-free waffle recipe as needed.
Coconut sugar: ​Adds a natural sweetness while keeping these healthy waffles refined sugar-free and subtly sweet. If needed, substitute brown sugar.
Baking powder: ​Gives these waffles a lift and keeps the texture light, airy and crisp.
Oat milk: To make these healthy oatmeal waffles vegan-friendly, use your favourite non-dairy milk. I like to use my homemade, creamy oat milk or homemade almond milk, but you can use any non-dairy milk of choice.
Vinegar: ​Adding a splash of vinegar helps the baking powder activate and make this waffle batter as light and fluffy as possible.
Oil: Neutral tasting oils such as avocado oil add moisture, flavor, and a crispy exterior to the waffles. It also helps prevent the batter from sticking to the waffle maker.
Needed Equipment
How to Make Vegan Oatmeal Waffles
This waffle batter comes together in just minutes inside your high speed blender!
To start, add the gluten-free flour, oats, arrowroot starch, coconut sugar, and baking powder to the blender. Then, in a small bowl, whisk together the oat milk and apple cider.
Pour the milk mixture into the blender along with a 1/4 cup of avocado oil and a pinch of salt.
Blend until smooth, about 1 minute.
Keep the blender covered and allow the waffle batter to rest for 10-15 minutes, or until slightly thickened (similar to the consistency of honey). If it seems too thick, add a couple splashes of milk and blend again on low to incorporate and loosen it up.
Next, prep the waffle iron! Using your favourite cooking spray or oil with a pastry brush, coat the inside of the waffle maker with oil. Close the greased waffle maker and heat it to a medium heat setting.
Once properly preheated, gently pour the batter into the waffle maker until almost full. Close and cook the oatmeal waffles for 4-5 minutes, or until golden brown (this cook time may need to be adjusted based on your own waffle iron!).
Remove the ready waffles from the waffle maker and repeat the process until all of the batter is used. Serve immediately while warm with your favourite toppings and breakfast side dishes. Enjoy!
Topping Suggestions
These waffles are absolutely delicious on their own, but I personally love topping my waffles with Raspberry Chia Jam, Homemade Coconut Yogurt, and of course a drizzle of pure maple syrup. Below I've listed a few more of my favourite toppings to help inspire you, but feel free to customize the toppings to suit your favourites and mood.
Nut butter – ​peanut butter, almond butter, and cashew butter are all delicious on these waffles
Fresh fruit – try berries, banana slices, or warm apples and grilled peaches
Chocolate – ​both chocolate chips and cocoa nibs work well
Coconut whip – ​store-bought or homemade coconut whipped cream are great
Cinnamon – ​dust 1/4 teaspoon of cinnamon over top
Chopped nuts and seeds – Sprinkle on any nuts and seeds of choice
Recipe FAQs
Is waffle mix and pancake mix the same thing?
Waffle mix and pancake mix are very similar in many ways, but they are not the same and cannot be used interchangeably. Waffle mix contains more fat and contains oil whereas pancake mix is almost always oil-free and softer. This added fat is necessary to make the outside of the waffles crisp on the exterior and fluffy on the interior.
What makes Belgian waffles different than regular waffles?
Belgian waffles are larger, thicker waffles. They're typically made with a waffle batter than contains yeast and pearl sugar to help them rise and remain light and crispy while being so thick. This waffle batter is better suited for regular, homemade waffles and waffle makers.
I don't have a blender. Can I make these waffles in a bowl?
Yes. Mix all of the ingredients together in a mixing bowl until well combined. For the most similar results, I'd recommend purchasing pre-ground oat flour at the grocery store to keep the batter as smooth as possible.
Can I substitute regular flour for the gluten-free flour in this recipe?
I have not tested it and cannot recommend it. Regular all-purpose flour and gluten-free baking flour typically cannot be used interchangeably so doing so would require additional testing and altered measurements for best results. If you are comfortable in the kitchen and want to experiment, feel free!
Can I freeze these waffles? How do I reheat them?
Absolutely! Freezing homemade oat waffles is one of the best ways to meal prep and ensure you always have a healthy, wholesome breakfast on hand for both hungry kids and mamas! Once cooked, allow the waffles to cool completely to room temperature on a wire rack, then transfer to a baking sheet and place the baking sheet in the freezer to flash freeze. Once frozen, transfer the oatmeal waffles to a freezer safe bag or container and freeze for up to 2 months. Finally, reheat the waffles in a toaster, toaster oven, or air fryer until warmed through and crispy again.
Expert Tips
Allow the batter to rest and thicken. ​I recommend letting the batter rest for at least 10 minutes. When the batter is ready to use it should be thick and slow pouring like honey. If the batter is too thin, wait another 10 minutes and see if that helps it thicken. If it remains runny, add 1 tablespoon of additional gluten-free flour at a time until thick. If the batter is too thick, blend in 1 tablespoon of oat milk at a time until the consistency is correct.
Make ahead option: ​One of the best ways to thicken the waffle batter successfully is to prepare it the night before, cover (store directly in your blender!), and refrigerate overnight. Stir in the morning, then cook immediately!
Adjust the cook time as needed. Each waffle maker heats up differently and can require some adjustments depending on your appliance. The waffle maker I use is by Cuisinart and this gluten-free waffle batter takes typically 4-5 minutes in my specific waffle maker. Since it's a gluten-free batter, plan to cook your waffles for a bit longer than traditional waffles.
More Vegan Breakfast Recipes You Might Like:
I hope you love this oatmeal waffle recipe as much as I do! They truly are the perfect vegan breakfast recipe idea! If you do make this recipe, please let me know in the comments below what you think and check out The Two Spoons Cookbook for more French-inspired vegan recipes like this! I truly love hearing from you, and I'm always here to answer any questions you might have. 
And of course, tag me on Instagram with your pictures using the hashtag #twospoons. Nothing makes me happier than to see your recreations.
PIN IT ON PINTEREST
Like this recipe? Save it for later! Pin it on Pinterest.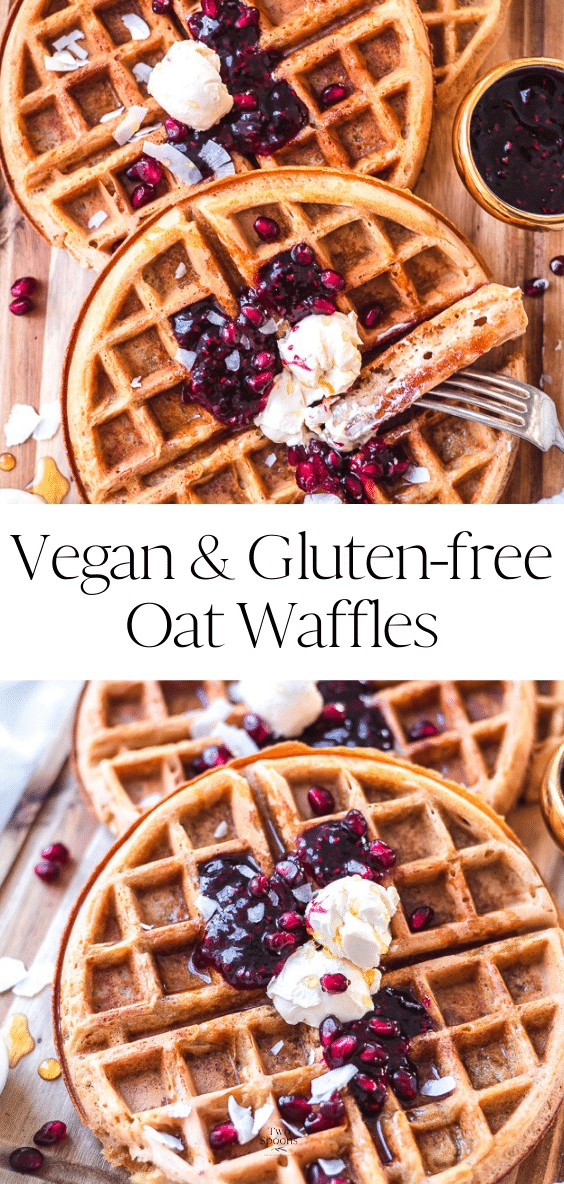 In a blender add gluten-free flour, oats, arrowroot starch, coconut sugar and baking powder.

In a small mixing bowl, combine the oat milk with apple cider vinegar and mix well. Add the milk mixture to the blender with avocado oil and a pinch sea salt. Blend until smooth consistency, about 1 minute.

Cover and let the waffle batter rest for 10-15 minutes to thicken. Then, stir the batter to test thickness. Thickness should be like honey, moving slowly when poured. Add splashes more milk if needed to then and blend on low to combine.

Spray the inside of the waffle maker with oil. Close the waffle maker and turn it on to medium heat setting. When pre-heated, gently pour the batter into the waffle maker until almost full. Close and cook as instructed by waffle machine (about 4-5 minutes total), or until golden brown.

Remove the waffle from the waffle maker and continue the process until you've used all the batter. (Optional to keep the waffles warm in the oven on a baking tray at 170F/75C until ready to eat).

When ready to eat, top with your favourite jams, coconut yogurt, and maple syrup.
*Gluten-free batter often takes a little longer to cook than regular. Follow waffle maker instructions for cooking, but note that you might need to leave for 1 minute longer than instructed. (Until waffles turn golden brown in colour. I left mine for about 5 minutes total). 
DO AHEAD: Batter can be made 1 day ahead. Cover and leave in fridge. If consistency is too thick, add splashed more milk and blend on low.

(Thickness should be like honey, moving slowly when poured).
Nutrition facts is a rough estimate, based on 1 large Belgium sized waffle.
Calories:
512
kcal
|
Carbohydrates:
72
g
|
Protein:
10
g
|
Fat:
23
g
|
Saturated Fat:
2
g
|
Sodium:
93
mg
|
Potassium:
299
mg
|
Fiber:
8
g
|
Sugar:
20
g
|
Vitamin A:
308
IU
|
Calcium:
321
mg
|
Iron:
4
mg