Oct 21, 2019 (Last updated Nov 1, 2023) by Hannah Sunderani
Pumpkin Chickpea Blondies (V + GF)
How ready are you to sink your teeth into these Pumpkin Chickpea Blondies? If you've never baked with chickpeas before, you are in for a treat, literally! Because contrary to belief, the chickpea is versatile enough to be used in delicious baked goods. Including these healthy and gluten-free chickpea blondies.
And trust me, won't believe they're made with beans!
These chickpea blondies are sweet, moist, chocolatey, fall-spiced and so cozy. The texture and taste is spot on for a delicious cakey treat
Now, let me tell you exactly how you can make them.
Pumpkin chickpea blondies (V+GF)
The ingredients
The ingredients for this recipe is really straight forward. And likely you already have them in your pantry.
You will need:
chickpeas
almond butter
canned pumpkin puree
gluten-free oats (or quinoa flakes)
maple syrup
vanilla
baking powder
baking soda
sea salt
pumpkin spice
semi-sweet chocolate chips
As you can see, there's nothing special or strange about these ingredients. You can find them all at a regular grocers. Certainly everyone can make this recipe, which is why I've given it my newbie cook stamp of approval.
Baking with chickpeas
So, you might be surprised that this recipe uses chickpeas in the batter? And trust me, I get it. The first time I heard about baking with chickpeas I was a skeptic.
But in fact, chickpeas make for a great flour substitute for healthy baked goods. They are light in flavour and therefore adaptable to other flavours you pair it with. For example, in this recipe it's the pumpkin puree, pumpkin spice and maple syrup that really comes through in flavour.
The chickpeas help make the mixture doughy – instead of using traditional flour. And with a bit of ground oats they bind beautifully when cooked.You're going to love the taste and texture of these chickpea blondies.
Make this pumpkin chickpea blondies at home with me:

Join me on my YouTube Channel, where I teach you just how easy it is to make these pumpkin chickpea blondies!
A few tips for making these chickpea blondies:
I like to use a food processor to combine the ingredients. Start by adding the oats and give them a couple pulses to break up into a flour-like substance, then add the rest of your ingredients. Following this order will ensure you have a smooth batter consistency for baking.
I recommend, when baking these chickpea blondies, to line the bottom of your cake pan with a bit of baking paper, and coat the sides with a bit of oil. This will stop the chickpeas from sticking to the pan when cooked.
I also like to pour half the chocolate chips into the batter to mix, and save the other half to sprinkle on top of the blondies before baking. The chocolate chip topping makes them look so gourmet and inviting.
Are these chickpea pumpkin blondies healthy?
I'm no nutritionist, but I love to eat healthy. And for a baked good, I'd say they're certainly a healthier option to traditional. They're gluten-free, with no refined flour, and we've used natural sweetener with maple syrup. Certainly, there is nothing guilty in these ingredients. And since we're using chickpeas instead of flour, there's more protein in them too.
The only "unhealthy" part of this recipe would be the chocolate chips, but if you ask me, chocolate is essential for the soul.
Of course, if you wanted to make these chickpea pumpkin blondies even healthier than you can forgo adding the chocolate chips altogether. It will bake just the same.
Other recipes you might like:
If you like these chickpea pumpkin blondies than you might also like these healthy treats:
Shop my kitchen:
I'm often asked what items I like to use in the kitchen. So, I've included my favourites for making these pumpkin chickpea blondies. You can find more of my favourite kitchen items on the shop page.
(Commissions earned as an affiliate. I only recommend products I know and love).
not exactly the same, but very similar to the food processor I have
Cuisinart 9-Inch Chef's Classic Nonstick Bakeware Square Cake Pan, Silver
Not my exact pan, but very similar. I have many other Cuisinart pans and they're fantastic.
Enjoy Life Semi-Sweet, Dairy Free, Nut Free Vegan Chocolate Chips
My favourite dairy-free semi-sweet chocolate chips. Used in this recipe and many of my other baked goods.
And there we go! A healthy and cozy vegan treat for you to enjoy during the fall months. I think you're going to love this recipe as much as I do. And, if you do make this recipe please let me know in the comments below what you think! I love hearing from you. And of course, tag me on Instagram with the hashtag #twospoons. Nothing makes me happier than to see your recreations.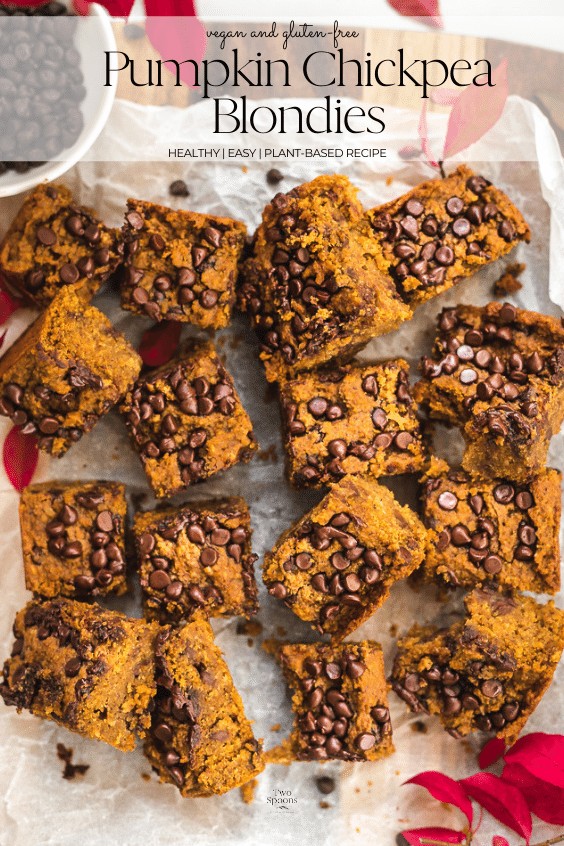 Preheat oven to 350F/176C. In a food processor add oats. Pulse until flour like substance.

Next add remaining ingredients: chickpeas, almond butter, canned pumpkin puree, maple syrup, vanilla, baking powder, baking soda, sea salt, and pumpkin spice. Blend to combine. Remove S-shape blade and add 1/4 cup chocolate chips. Fold into batter.

Line a square cake pan (I used a 9×9 inch pan / 23cm x 23cm) with parchment paper. Rub the sides with a bit of coconut oil. Pour batter into baking dish and spread to even. Sprinkle with remaining chocolate chips.

Bake blondies for 25-30 minutes, or until a toothpick inserted comes out clean. Let rest for 10-15 minutes before cutting into squares.
Blondies will keep in fridge for up to 5 days, and they freeze well.
To make these blondies healthier you can forgo adding the chocolate chips, but I like them for a little decadence.
Nutritional information is a rough estimate.
Calories:
133
kcal
|
Carbohydrates:
14
g
|
Protein:
4
g
|
Fat:
7
g
|
Saturated Fat:
2
g
|
Cholesterol:
1
mg
|
Sodium:
96
mg
|
Potassium:
182
mg
|
Fiber:
3
g
|
Sugar:
6
g
|
Vitamin A:
799
IU
|
Vitamin C:
1
mg
|
Calcium:
54
mg
|
Iron:
1
mg
See more step-by-step instructions by visiting the recipe story here!