Mar 2, 2020 (Last updated Oct 17, 2023) by Hannah Sunderani
30 Minute Moroccan-Inspired Carrot & Chickpea Salad
This tossed green salad with grated carrot, chickpeas and quinoa takes just 30 minutes to make. It's packed with fresh, flavourful and whole-food ingredients and is a terrific vegan chickpea salad for lunch, or serve it as a side dish. Finish with a drizzle of homemade moroccan-inspired dressing, and enjoy!
You guys…I am so excited to share this very easy and delicious Moroccan Carrot and Chickpea Salad. It's vegan, gluten-free, so easy to make, and healthy!
In this recipe you'll find grated carrots, chickpeas, quinoa, arugula, fresh herbs, roasted almonds and sweet dates. Certainly, this moroccan salad is far from boring and bland!
Better yet, this Moroccan carrot salad can be prepared in advanced, and will last up to 3 days in the fridge! (It actually gets BETTER with time!).
I love a good vegan chickpea salad that you can rely on for healthy mid-week lunches and quick dinners.
Now, let me tell you exactly how to make this Moroccan Carrot and Chickpea Salad, so that you can get crunching and munching immediately!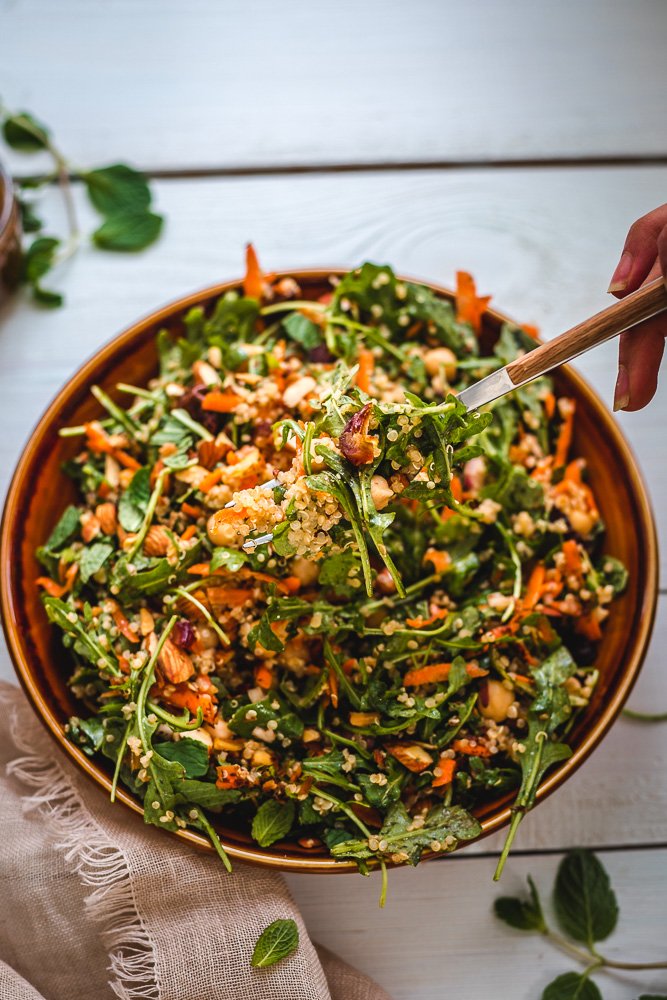 Moroccan Carrot and Chickpea Salad
The ingredients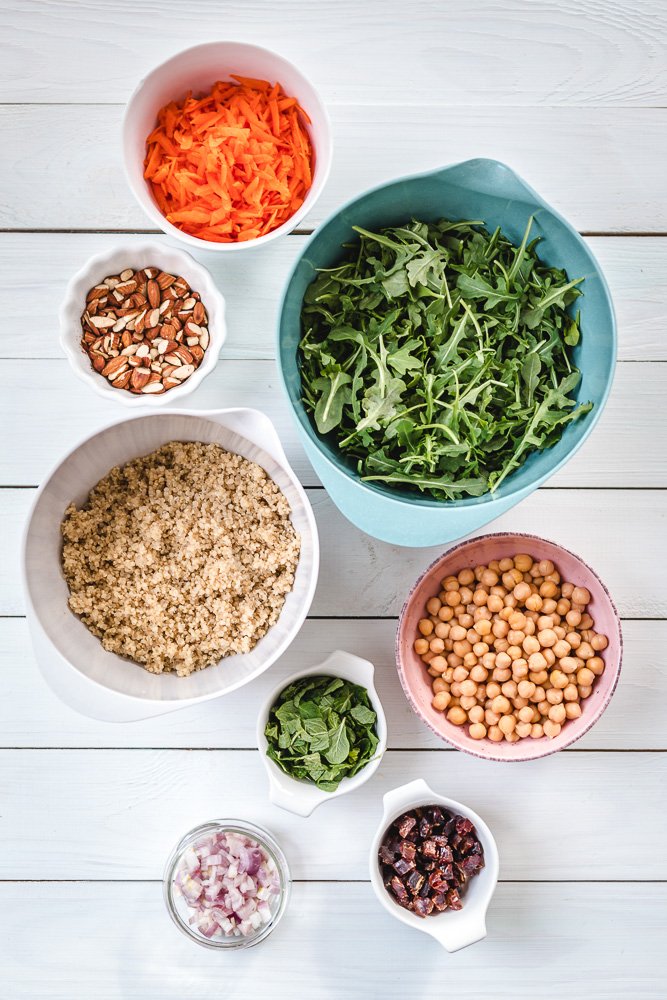 If you know my blog then you know that salads are my jam! Ya'll are often asking for vegan salad suggestions and top of that list is this vegan chickpea salad!
After my vegan caesar salad was such a hit, I wanted to bring another vegan chickpea salad variation that offered a totally different flavour profile. Cue this Moroccan salad!
The ingredients for this recipe are simple and straight forward. Which is why I have given it my Newbie Cook stamp of approval. Everyone can make this recipe, and likely you already have the ingredients to do so.
For this recipe, you will need:
quinoa
almonds
shallots
carrots
chickpeas
arugula
fresh mint
dates
What I love most about this recipe is the simplicity of these ingredients. They are simple whole foods; but when combined it's flavour rich and delicious!
To be more specific; the quinoa, chickpeas and toasted almonds add protein and heartiness to the dish, to keep you fuller for longer. While the carrot and toasted almonds adds beautiful crunch. Fresh mint gives more fresh flavour, dates add sweetness. Certainly, this is a healthy recipe that's full of flavour.
Make this recipe with me!
Make this recipe with me on my YouTube Channel! On this episode I share 4 Vegan Protein-Packed Salads including this delicious Moroccan Chickpea Salad!
Moroccan Salad Dressing
But it's the moroccan salad dressing that really takes the flavour profile to the next level. Made by mixing a tangy citrus fruits (orange and lemon) with spices like cinnamon, ginger, cumin and coriander.
All-in-all this dressing recipe is premium! You will love it in this salad, and other salads and buddha bowls. Feel free to make it whenever you want more flavour to your healthy salads.
How to make Moroccan Salad
This recipe is very simple and straight forward. Simply toss the ingredients to combine and serve. But there's a couple tips to making sure your moroccan salad is perfect as can be.
Make sure your quinoa is fully cooled before adding the veg, otherwise it will cause your greens to wilt.
To cool quinoa faster: transfer the cooked quinoa to a shallow bowl and spread it out. This will remove the steam much faster for a quicker cool down.
Recipe FAQs
Is it better to use canned or dried chickpeas in a salad
Both canned or dried chickpeas can be used in salad. Canned chickpeas can be strained, rinsed, and used right away. Dried chickpeas have to be soaked 12 hours in advanced and then cooked in simmering water for 1.5 to 2 hours.
Should you peel carrots before using them in a salad
Not necessarily. As long as you wash and scrub carrots well to remove any dirt then they are safe to eat. However, peeling carrots before using them in salad ensures the dirty exterior is removed, and the majority of people prefer eating them this way.
Can Moroccan Salad be prepared in advance?
Yes, this moroccan salad recipe can be prepared in advance, and will keep in your fridge for up to 3 days. Making it a great recipe for meal prep. Enjoy for mid-week lunches or for an easy dinner.
How long does this Moroccan Carrot and Chickpea Salad last?
This salad recipe will keep in the fridge for up to 3 days. Store in the fridge in an air-tight container.
Substitutes for this Moroccan Carrot Salad:
Nuts: If you don't have almonds you can substitute with toasted walnuts or pecans. Or, make it nut-free by substituting with pumpkin seeds or sunflower seeds.
Dried fruit: This recipe uses chopped dates, which offers beautiful flavour. However, if you don't have dates on hand you can substitute with currants/raisins or chopped apricots.
Chickpeas: This recipe uses canned chickpeas, but if you don't have on hand you can substitute with another white bean like navy beans or cannellini beans.
Other recipes you might like:
If you're digging this delicious salad recipe, you might also like:
You might also enjoy The Two Spoons Cookbook that boasts a whole chapter dedicated to soups and salads like this one!
So there we have it, a very simple and delicious Moroccan carrot salad with chickpeas that you can enjoy with your loved ones. Be it for dinner or next day lunches.
This recipe is healthy, vegan, gluten-free and most importantly – flavour rich! Who says healthy salads need to be boring? Prepare in advance to enjoy through the week, or make a big batch to share. (It's great for bbq's and potlucks). I'm sure you're going to love this recipe as much as we do.
And, if you do make this recipe please let me know in the comments below what you think! I love hearing from you. And of course, tag me on Instagram with the hashtag #twospoons. Nothing makes me happier than to see your recreations.
Pin it on Pinterest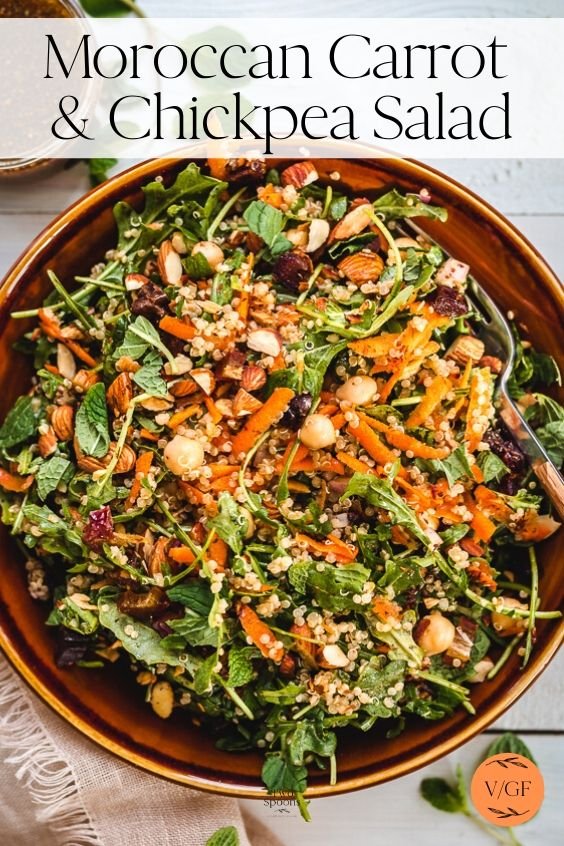 2/3

cup

quinoa

1 1/2

cup

water

1/2

cup

almonds

chopped

1

shallot

small

1

cup

carrots

grated (about 1 large carrot)

1

can

chickpeas

(14 fl oz/400 ml)

2.5

oz

arugula

(70 g/2 cups)

1/2

cup

mint

tightly packed and chopped

4

Medjool dates

pitted and chopped
Moroccan Salad Dressing
1/4

cup + 2 tbsp

olive oil

2

tbsp

lemon juice

2

tbsp

orange juice

1

tbsp

maple syrup

1/2

tsp

cinnamon

1/2

tsp

ginger

1/2

tsp

cumin

1/2

tsp

coriander

1/4

tsp

sea salt

pinch

chili flakes
In a saucepan combine quinoa and water. Bring to a boil, then reduce to simmer and cook quinoa for 12-15 minutes. Fluff with a spoon and cover with tea towel. Let cool.

Toast almonds in a skillet on medium heat, stirring often until fragrant and golden browned (approx. 8-10 mins). Remove from heat.

Prepare dressing in a small bowl by whisking together oil, lemon juice, orange juice, maple syrup, cinnamon, ginger, cumin, coriander, sea salt and red pepper flakes.

In a large mixing bowl combine quinoa, chopped shallot, grated carrot, chickpeas, arugula, chopped mint and dates and toasted almonds. Pour over dressing and toss to combine
Salad will keep in fridge for up to 3 days. 
To speed the quinoa cooling process, spread cooked quinoa into shallow bowl. This will allow for the steam to release faster. 
Nutrition information is a rough estimate. 
Calories:
384
kcal
|
Carbohydrates:
37
g
|
Protein:
10
g
|
Fat:
24
g
|
Saturated Fat:
3
g
|
Polyunsaturated Fat:
4
g
|
Monounsaturated Fat:
15
g
|
Trans Fat:
0.002
g
|
Sodium:
332
mg
|
Potassium:
519
mg
|
Fiber:
8
g
|
Sugar:
9
g
|
Vitamin A:
4033
IU
|
Vitamin C:
9
mg
|
Calcium:
116
mg
|
Iron:
3
mg
See more step-by-step instructions by visiting the recipe story here!