Soft and Chewy Gingerbread Cookies (V+GF)
You're looking at the BEST Soft and Chewy Gingerbread Cookies. Truly, I cannot stop eating them! It's definitely a recipe you'll want on your holiday baking list. They're quick and easy with simple ingredients. And they're vegan and gluten-free. Spiced with ginger, cinnamon and cloves, and cooked to perfection for an ultra soft and chewy cookie. Certainly, it's one of my favourite sweet holiday treats I've shared.
There is no doubt you could feed these Soft and Chewy Gingerbread Cookies to a vegan skeptic and have them devoured. In fact, I'm planning to serve them at our next holiday gathering with the in-laws, (proof from sharing with my neighbours – they win over a crowd).
It's often faced with trepidation when we hear, "vegan and gluten-free baking." But I can assure you this recipe proves the stereotypes wrong. You won't be able to tell the difference between this recipe vs. grandma's classic. The taste and texture is spot on for a deliciously moist, soft and chewy gingerbread cookie. We couldn't ask for anything more.
Now, let me tell you exactly how to make these gingerbread cookies so that you can be the centre of attention at your next cookie swap.
Soft and Chewy Gingerbread Cookies
The ingredients:
The ingredients for this recipe is pretty straight forward. And you might already have them in your pantry! Which is why I have labelled this recipe newbie cook approved. Truly, there is nothing fancy about the ingredient list.
For this recipe you will need:
demerara sugar
vegan butter
almond butter
molasses
ground flax (to make a flax egg)
ginger
cinnamon
cloves
sea salt
baking powder
almond milk
For the gluten-free flour. I recommend using a gluten-free flour blend. They're usually a mix of rice, potato, tapioca etc. and I find they are the best substitute for all-purpose flour when it comes to gluten-free baking. Bob's Red Mill has a good gluten-free blend, and you can find other gluten-free flour blends at most grocery stores. In my experience, if you're choosing a gluten-free flour blend you really can't go wrong with the brand.
How to make Soft and Chewy gingerbread cookies
We will begin by creaming together the vegan butter with sugar, and then adding the remaining wet ingredients. Then, we will sift our dry ingredient and add them to the dough. Finally we will knead together the dough until combined.
The steps are simple to create stellar gingerbread cookies. Check the recipe instructions below for all the details on how to make them.
How long do these Soft and Chewy Gingerbread Cookies last?
The real question is how long will these soft and chewy gingerbread cookies last. Because honestly, they go like hot cakes. But, if you're able to show some self-restraint then they can last 3-5 days, while still tasting fresh.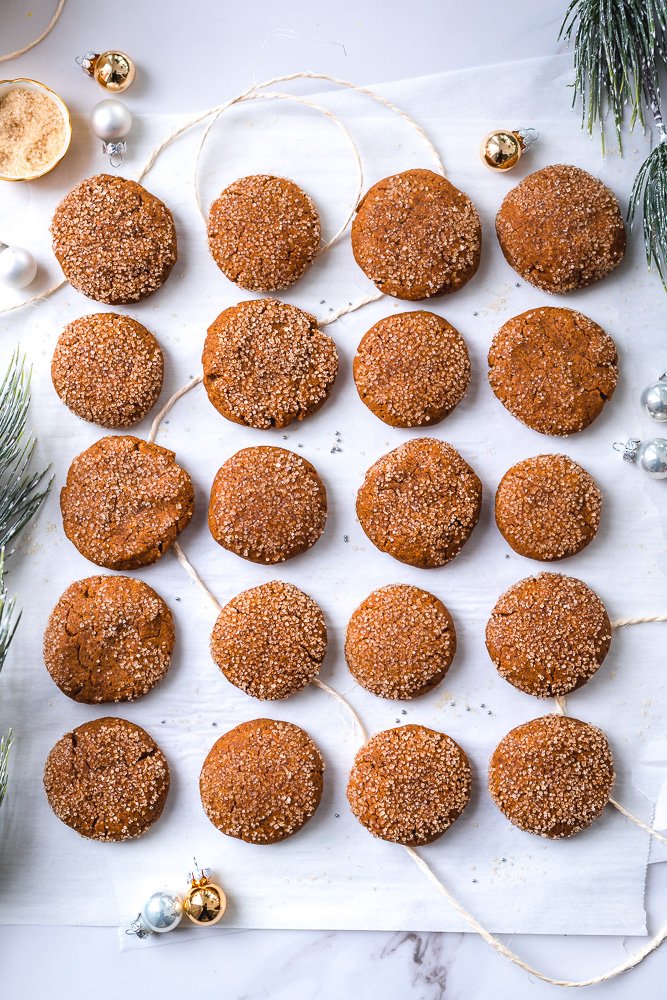 How to keep gingerbread cookies fresh?
After baking, store your cookies in an air-tight container. I've used a tin box, but any Tupperware will do. This will keep them nice and fresh.
If you plan to keep for more than 3 days I would recommend to freeze half the batch for ultimate freshness. Wrap well and store in an air-tight container. Keep in freezer for 2-3 weeks. Simply remove from freezer a couple hours before eating for sufficient time to defrost. They'll taste just as fresh as the day you made them.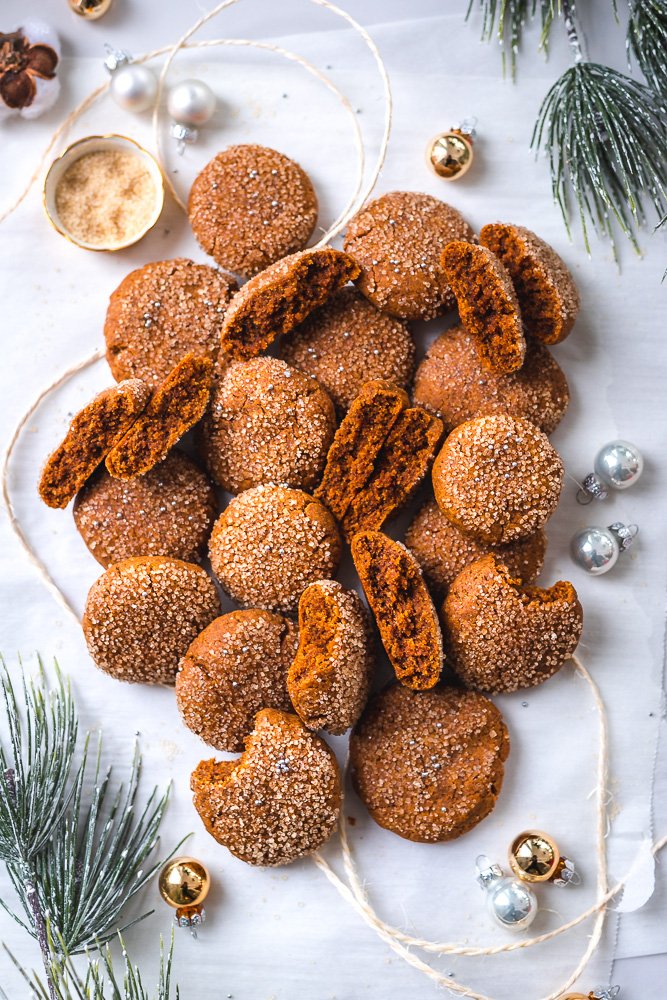 Other Holiday recipes you might like:
If you're digging these Soft and Chewy Gingerbread Cookies, you may also like these Holiday recipes:
Shop my kitchen:
I'm often asked what items I like to use in the kitchen. So, I've included my favourites for making these Soft and Chewy Gingerbread Cookies. You can find more of my favourite kitchen items on the shop page.
(Commissions earned as an affiliate. I only recommend products I know and love).
Cuisinart Easy Grip Bakeware 17-Inch Baking Sheet
This is from the bakeware set I have, and I love it. But any baking sheet will do.
And there it is, a simple holiday cookie recipe for Soft and Chewy Gingerbread Cookies. They're vegan and gluten-free, but so classic they will win over any crowd. Perfectly spiced and so moist, this is a cookie you will have in your Holiday recipe roster for years to come.
And, if you do make this recipe please let me know in the comments below what you think! I love hearing from you. And of course, tag me on Instagram with the hashtag #twospoons. Nothing makes me happier than to see your recreations.
1

tbsp

ground flax seed

(or ground chia)

2

tbsp

water

1/2

cup

vegan butter

(I used Earth Balance)

3/4

cup

demerara sugar, or raw cane sugar

+ 2 tbsp more for rolling

1/4

cup

almond butter

1/4

cup

molasses

2

tbsp

almond milk

2

cup

all purpose gluten-free flour blend

2

tsp

ground ginger

1

tsp

cinnamon

1/2

tsp

cloves

1/4

tsp

sea salt

1

tsp

baking powder
Make flax egg by combining ground flax and water. Whisk together and let sit for at least 5 minutes.

Preheat oven to 350F/175C. In a large bowl, cream together the vegan butter and demerara sugar until light and fluffy. Add flax egg, almond butter, molasses and almond milk. Beat to combine.

In a separate bowl sift gluten-free flour blend, ginger, cinnamon, cloves, sea salt and baking powder. Add dry ingredients to wet in batches and knead dough with a wooden spoon, or your hands.

Line two baking trays with parchment paper. Roll dough into balls the size of a ping-pong, and gently press down to form a round disc shape. Pour 2 tbsp demerara sugar into a shallow bowl and dip the cookies top-side-up in sugar. Place on baking tray with dipped side facing up. Continue until all cookies are coated in sugar.

Bake cookies in oven for 10 minutes, or until lightly browned and slightly cracking at the ends.
Cookies will keep for up 3-5 days. Keep in an air-tight container.
To keep longer, freeze cookies. Wrap well and store in freezer in an air-tight container for up 3 weeks. Let thaw completely before serving.  
Nutritional information is a rough estimate. 
Calories:
182
kcal
Carbohydrates:
26
g
Protein:
2.25
g
Fat:
4.75
g
Saturated Fat:
2.25
g
Polyunsaturated Fat:
2
g
Monounsaturated Fat:
4
g
Sodium:
150.5
mg
Potassium:
115
mg
Fiber:
2
g
Sugar:
13
g
VEGAN – VEGETARIAN – WHEAT-FREE – GLUTEN-FREE – DAIRY-FREE – SOY-FREE