Mar 20, 2020 (Last updated Nov 24, 2023) by Hannah Sunderani
Crispy Pan Fried Tofu
Today I am sharing a very quick and easy recipe for how to make crispy pan fried tofu. Made with only eight ingredients and ready in 20 minutes.
This tofu recipe is crispy, tangy, sweet and full of umami flavour. Simmered in a miso soy sauce dressing until thick and caramelized. It's naturally vegan and gluten-free.
Tofu is an exceptionally great way to incorporate protein on a vegan diet. And there are lots of methods for how to cook tofu – be it baked or sautéed. I love tofu cooked every which way; baked, sautéed, and even raw! But I do find that cooking tofu in a pan is the quickest and easiest way to make crispy tofu that everyone will love from your kids to vegan skeptics.
Now, let me tell you exactly how to make this Crispy Pan Fried Tofu, so you can have dinner ready pronto!
How to make Crispy Pan Fried Tofu
The ingredients
The ingredients for this recipe are simple and straight forward. And likely you already have them in your pantry/kitchen.
For this recipe you will need:
extra firm tofu
neutral oil (avocado oil or coconut)
tamari (soy sauce)
maple syrup
miso paste
rice vinegar (or lemon or lime)
1-inch piece ginger (or dried ginger)
cayenne pepper flakes
Miso Soy Sauce
This miso soy sauce is made by mixing together tamari, maple syrup, miso, rice vinegar, ginger and cayenne. It's a simple blend that packs mega flavour. And will give our tofu a delicious tangy, sweet and umami flavour.
How to add flavour to tofu
In fact, the miso soy sauce in this recipe is essential to adding flavour to your tofu. Otherwise, tofu is pretty bland on its own.
But think of tofu as a blank canvas to add flavour. Its neutral taste and spongey texture means it absorbs flavour effortlessly.
Some recipes will tell you to marinade tofu in advanced for more flavour, And will recommendation marinading at least 30 minutes in advanced. But actually, I disagree.
In fact, this pan-fried recipe takes only 5 minutes of simmering in sauce for the flavours to absorb and combine. And trust me, it's flavour rich!
Needless to say, this is great news for busy bodies as it saves tremendous time, and gets dinner on the table faster.
How to cook tofu on pan
How to cook tofu without sticking to the pan
Now, pan-frying tofu is pretty simple and straight forward, but you might run into the problem with it sticking to the pan. So, let's discuss why this might be happening.
First of all, your tofu might be too wet to begin cooking with. Think of tofu like a sponge – it's absorbent and holds a lot of water.
You want to be sure to press the tofu with a clean dish towel to absorb the water before cooking. More on how to press your tofu to come.
Secondly. your tofu might be sticking to the pan because of the type of pan you're using.
If you're having trouble with sticking, opt-in for non-stick pans (like a ceramic non-stick or classic non-stick). But don't fear if you are using a stainless steel pan for this recipe. This is what I used and it turned out great! Just be sure to press out the water in the tofu as best you can.
What tofu is best for pan frying?
Certainly, the best type of tofu for frying is extra firm tofu. This is because it holds is shape well for pressing, slicing, and frying, without breaking apart.
In general, I use extra firm tofu the most for cooking. And I definitely encourage you do too when it comes to cooking crispy tofu – be it baked or sauteed.
Softer tofus (like silken tofu ) are great for recipes like soups and stews. They also make wonderfully creamy sauces and desserts.
Finally, I also like to ensure my tofu is organic and non-GMO. Although GMO foods are considered safe for consumption, I prefer to eat the organic tofu with no GMO's. You can find organic tofu at most generic grocery stores.
Tips for this recipe
What does it mean to press tofu?
So, you might be wondering how the heck to "press your tofu"? And what does "pressing your tofu" even mean? Trust me, I was also confused when I first started cooking with tofu.
Pressing your tofu means removing all the excess water so it is as dry as possible to cook with. Remember, tofu is like a sponge. So we have to press out the water if we want it to be crispy.
But don't squeeze it like a sponge! We must be a little more gentle…
How do you press tofu quickly?
Now, a lot of recipes recommend to use a tofu press, and to press your tofu for at least an hour. But I disagree. You can press tofu quickly without any fancy gadgets.
Simply using your hands, or a weighted object like a couple heavy cookbooks will do.
In fact, I prefer to press tofu with my hands. Simply grab a clean dish towel, wrap it around your tofu a couple times, and gently press to remove the moisture. You'll feel the towel getting more wet and you press new areas. Do this for a few minutes (maybe 5 mins) until you find the tofu to be significantly drier.
Next, slice your tofu into six equal slices (about 1/2-inch thick). Touch the slices, and if they feel wet then gently dab with your dish towel to remove any more moisture. Now you're ready to sauté the tofu!
The second option is to wrap your tofu in a clean dish towel and place a couple of heavy books on top, or a cast iron skillet (generally something flat and heavy). Wait 30 minutes for the water to seep out. This is what The Spruce Eats recommends.
MAKE THIS PAN-FRIED TOFU WITH ME!
Watch along with me as I make this vegan Pan-Fried Tofu on Vegan Afternoon with Two Spoons. 
How to get your tofu crispy?
You probably guessed the answer by now? The way to get your tofu crispy is to ensure you have pressed the tofu to remove its excess water. See recommendations above for how to press tofu quickly and effectively, without any fancy gadgets.
Secondly, the best way to get your tofu crispy is to be generous with your oil. You want to make sure there is enough oil to coat the pan entirely as the tofu sizzles. We will drain the oil from the pan before adding the miso soy sauce. So don't feel like you're going to be eating unnecessary amounts of fat by using more oil.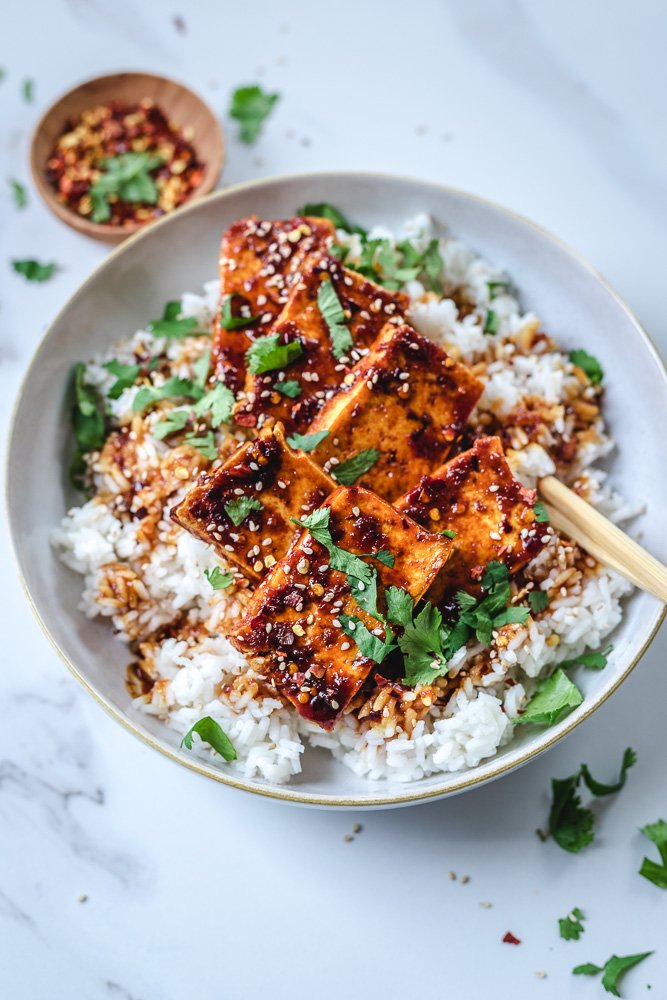 Conclusion
So, I think you're ready to make this crispy pan-fried tofu now. With these simple tips you can enjoy quick, easy and crispy tofu that's full of umami flavour. I have no doubt you're going to nail it! And I hope you love this recipe as much as we do.
And, if you do make this recipe please let me know in the comments below what you think! I love hearing from you. And of course, tag me on Instagram with the hashtag #twospoons. Nothing makes me happier than to see your recreations.
Drain tofu and wrap in a clean dish towel. Gently press tofu to remove the excess liquid. Do this for a few minutes until you find the tofu to be significantly drier. Slice tofu into six equal slices (about 1/2-inch thick). Gently dab tofu slices with dish towel to remove any more moisture.

In a bowl combine tamari, rice vinegar, maple syrup, miso, grated ginger, and cayenne. Mix to combine. Set aside.

Add neutral oil to skillet and bring to med-high heat. When the oil is hot (3-5 mins) carefully add tofu slices. (Do this carefully as oil can spit as tofu cooks). Cook each side until browned and crispy (4 mins per side). Use a chop stick or spatula to turn.

Strain oil into a small bowl, holding back the tofu with a spatula. Bring back to medium-heat and add sauce. Spoon the sauce over the tofu to absorb and marinade. Let simmer until sauce has thickened and caramelized ( 5 mins).

Serve tofu with rice and drizzle with remaining glaze.
Press tofu as instructed in Step 1. Alternatively, you can wrap tofu in clean dish towel and place two heavy books on top. Let rest this way for 30 minutes. 
Sub rice vinegar for lemon, lime, or apple cider vinegar if you don't have it.
Nutritional information is a rough estimate. 
Calories:
422
kcal
|
Carbohydrates:
17
g
|
Protein:
4
g
|
Fat:
38
g
|
Saturated Fat:
3
g
|
Sodium:
1847
mg
|
Potassium:
106
mg
|
Fiber:
1
g
|
Sugar:
13
g
|
Vitamin A:
104
IU
|
Calcium:
28
mg
|
Iron:
1
mg
See more step-by-step instructions by visiting the recipe story here!