Mar 24, 2020 (Last updated Sep 21, 2021) by Hannah Sunderani
Melty and Stretchy Vegan Mozzarella Cheese

Say hello to this easy melty and stretchy vegan mozzarella cheese. This recipe takes just 10-minutes and 7 ingredients to make. It's effortless, delicious, and I am obsessed!
As for flavour; expect this vegan cheese to be creamy and smooth, cheesy, salty and savoury. All-in-all, it's exactly what were looking for in a vegan mozzarella recipe.
Enjoy this recipe for a quick grilled cheese, topped on pizza, and layered into lasagna. Or, simply grab some nacho chips and dip!
To sum it up, use this recipe wherever and whenever you're looking to add melty cheese to your favourite recipes.
Now, let me tell you exactly how to make this Melty and Stretchy Vegan Mozzarella so that you can devour it like I did.
The Best Vegan Mozzarella Cheese! Easy, melty and stretchy!
Ingredients for vegan mozzarella cheese
The ingredients for this recipe are simple and straight forward. Which is why I have given it my newbie cook stamp of approval.
For this recipe, you will need:
canned coconut milk
almond milk
nutritional yeast
garlic powder
onion powder
sea salt
arrowroot powder
As you can see, it's pretty simple and straight forward. And if you're familiar with vegan cooking you probably already have these ingredients in your pantry.
Typically, you can find these ingredients at most generic grocery stores. However, if you're struggling to find nutritional yeast or arrowroot powder than I recommend a visit to an organic grocers like Wholefoods or Trader Joe's.
What's the best vegan mozzarella cheese?
Certainly, there are some good vegan mozzarella brands to buy, instead of making it yourself. Which offer consistency that's also melty and stringy. I'm not opposed to these brands. In fact, I use them from time-to-time for parties and entertaining.
However, the nutrition facts for store-bought vegan mozzarella can be a tad unhealthy. Since they use ingredients like starches, gums and carrageenan for longer shelf-life.
No doubt, making vegan mozzarella at home is a healthy solution. You know exactly what's gone into it – no preservatives or additives, and the recipe can be made in just 10 minutes. So you can feel confident in knowing exactly what you're putting in your body.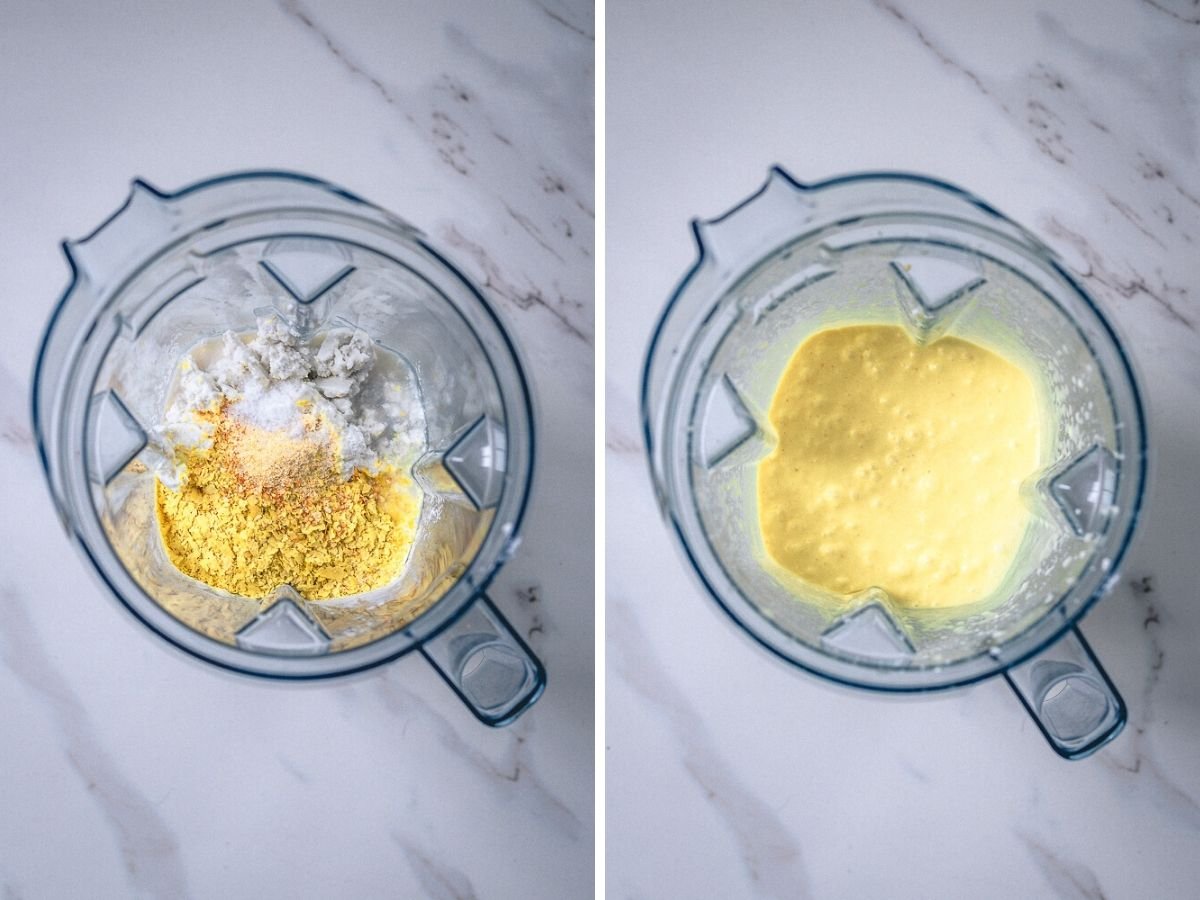 How to make vegan mozzarella melty and stringy
Now, you might be wondering exactly how to make vegan mozzarella melty and stringy? For vegans, this is the hardest part about finding reliable vegan cheese brands/recipes.
Often times, they don't melt nor get stringy, which is a bummer when you're looking to make pizza, grilled cheese, or nachos. It's ALL about the stringiness!!
My magic ingredient for getting mozzarella melty and stringy is arrowroot powder!
What is arrowroot powder?
Arrowroot powder is an ingredient that you can use to thicken sauces, soups, and make melty vegan cheese! It comes from the arrowroot plant and can be used as a substitute for corn starch, tapioca starch and other thickening agents.
See 5 thing you should know about arrowroot powder for more on this fabulous root. All-in-all, it's a healthy and gluten-free ingredient that you can use to thicken recipes.
And that's exactly how it's used for this cheese recipe. The arrowroot powder helps to thicken your vegan mozzarella into a stringy and gooey cheese sauce. Without it, it's impossible to achieve the same results.
Make this vegan mozzarella recipe nut-free
This recipe can easily be made nut-free by substituting the almond milk for oat milk or soy milk. You can do this as a direct 1:1 replacement and it will achieve the same results. Voila! Now you have a mozzarella recipe that's vegan and nut-free. 😉
Other cheesy recipes you might like:
If you're digging this cheesy recipe, you might also like:

So, now you know how to make easy melty and stretchy vegan mozzarella. It's creamy and smooth, cheesy, salty and savoury. Enjoy this recipe whenever you're looking for melty cheese in your favourite dishes (lasagna, pizza, grilled cheese, nachos and more).
And take pleasure knowing exactly how your vegan cheese was made; with wholesome ingredients that you can feel good about eating.
I hope you enjoy this recipe as much as I do. And, if you do make this recipe please let me know in the comments below what you think! I love hearing from you. And of course, tag me on Instagram with the hashtag #twospoons. Nothing makes me happier than to see your recreations.
1

can coconut milk

(400 ml)

1/4

cup

almond milk

1/3

cup

nutritional yeast

1/2

tsp

garlic powder

1/2

tsp

onion powder

½

tsp

sea salt

3

tbsp

arrowroot powder
In a blender add coconut milk, almond milk, nutritional yeast, garlic powder, onion powder, sea salt and arrowroot powder. Blend until smooth consistency. Transfer to saucepan and bring to medium-high heat. Warm mozzarella, stirring often, until thick and stringy in consistency (5-10 minutes).
Vegan Mozzarella can be made in advance, reheat in saucepan when ready to use. It will keep in fridge for up to 5 days.
Learn how to make

vegan grilled cheese

with this recipe. 
Nutritional information is a rough estimate. 
Calories:
269
kcal
|
Carbohydrates:
13
g
|
Protein:
4
g
|
Fat:
24
g
|
Saturated Fat:
21
g
|
Sodium:
327
mg
|
Potassium:
336
mg
|
Fiber:
3
g
|
Sugar:
3
g
|
Vitamin C:
3
mg
|
Calcium:
35
mg
|
Iron:
2
mg