Feb 18, 2020 (Last updated Aug 23, 2023) by Hannah Sunderani
Healthy Balsamic Mushrooms
Hey guys! Today I'm sharing a very quick and easy recipe for how to make healthy balsamic mushrooms! These mushrooms are umami flavoured, creamy and lightly tangy. This recipe is vegan and keto. It makes for a great side dish, or go gourmet by topping on toast and comforting dishes like baked potatoes and risotto.
I love sautéing mushrooms because it's quick, easy, and so flavourful. Certainly, this recipe is as simple as they come. You need only 5 ingredients for these ultra lush and full-bodied healthy balsamic mushrooms.
Now, I've got a few tricks to perfecting this recipe (taste and texture), which I will share below. Plus, read more for my secret ingredient for getting your mushrooms ultra creamy.
So, let's get into how to make these healthy balsamic mushrooms.
Healthy Balsamic Mushrooms
The ingredients:
As I mentioned, the ingredients for this recipe are simple and straight forward. You will need:
cremini mushrooms
olive oil
sea salt
almond butter
balsamic vinegar
thyme
As you can see, there is nothing complicated or unique about these ingredients. The only ingredient that's a little unique is the almond butter. But this is my secret ingredient for rich and creamy mushrooms. More on that to come, under my Tips section.
Tips for this Healthy Balsamic Mushroom recipe
Certainly, making these healthy balsamic mushrooms is easy peasy. Simply sauté the mushrooms in a skillet until golden brown. It should take no longer than 20 minutes.
However, there are a few tips to getting perfect texture and taste.
So, let's start with texture: Firstly, I like to start by sautéing the mushrooms on medium-low heat. This will stop them from burning, and allow the natural waters to release. In fact, mushrooms hold high water content.
Then, after about 10 minutes, I add my seasoning (almond butter, balsamic, and thyme) and turn the pan up to high temperature. Next, I sauté and stir often to evaporate the liquid for a thick and rich sauce, and golden brown mushrooms.
Secondly, let's talk taste: My trick to getting creamy mushrooms is a bit of nut butter. I really like to use almond butter for these balsamic mushrooms, and tahini is also delicious. A little almond butter makes for a deliciously creamy mushroom recipe. Plus, it cuts the acidity of balsamic for a more tangy taste. Certainly, it's a gorgeous pairing that I highly recommend trying.
Other recipes you might like
If you're digging this healthy balsamic mushrooms recipe, you might also like these: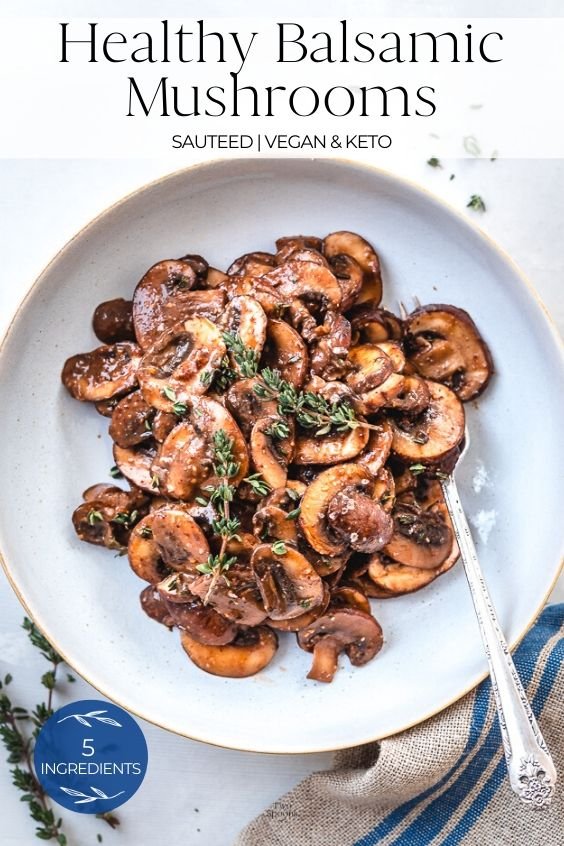 And there we have it. a very easy and straight forward balsamic mushrooms recipe. Enjoy on toast, risotto and baked potatoes. Or, serve as a side dish. These mushrooms are umami flavoured, creamy and lightly tangy. Enjoy for savoury breakfast, or as a side dish. Certainly, it's a simple recipe that you can toss together in minutes. I think you're going to love them as much as we do!
And, if you do make this recipe please let me know in the comments below what you think! I love hearing from you. And of course, tag me on Instagram with the hashtag #twospoons. Nothing makes me happier than to see your recreations.
16

oz

cremini mushrooms

450 g

2

tbsp

olive oil

1/8

tsp

sea salt

1

tbsp

almond butter

3

tbsp

balsamic vinegar

1

tsp

thyme
Slice cremini mushrooms and add to skillet on medium-low heat with olive oil and a pinch sea salt. Cook mushrooms, stirring occasionally for 10 minutes (letting the mushrooms sweat and release their natural waters).

Combine almond butter, balsamic and thyme in a small bowl. Whisk together. Turn skillet to medium-high heat and pour liquid mixture over mushrooms. Continue cooking mushrooms, stirring often until liquid is thickened and mushrooms are golden browned. (5-10 mins)

Serve mushrooms as a side dish, or top on avocado toast, risotto or baked potato.
Calories:
122
kcal
|
Carbohydrates:
8
g
|
Protein:
4
g
|
Fat:
9
g
|
Saturated Fat:
1
g
|
Sodium:
10
mg
|
Potassium:
547
mg
|
Fiber:
1
g
|
Sugar:
4
g
|
Vitamin A:
24
IU
|
Vitamin C:
1
mg
|
Calcium:
37
mg
|
Iron:
1
mg