Mar 15, 2020 (Last updated Sep 28, 2022) by Hannah Sunderani
Best Vegan Chili
If you're looking for the best vegan chili recipe then you've come to the right place. This vegan chili is easy to make, healthy and wholesome. It's packed with protein using 3-beans: white beans, kidney and black beans. Needless to say it's a hearty dish that you can enjoy for a quick dinner.
Best of all, this recipe is quick to make. You can have piping hot dinner for six in just 40 minutes, with little work involved! It's flavour rich and satiating. And makes for a great meal prep dish to enjoy throughout the week. Simply re-heat and eat.
So, let me tell you exactly how to make this recipe.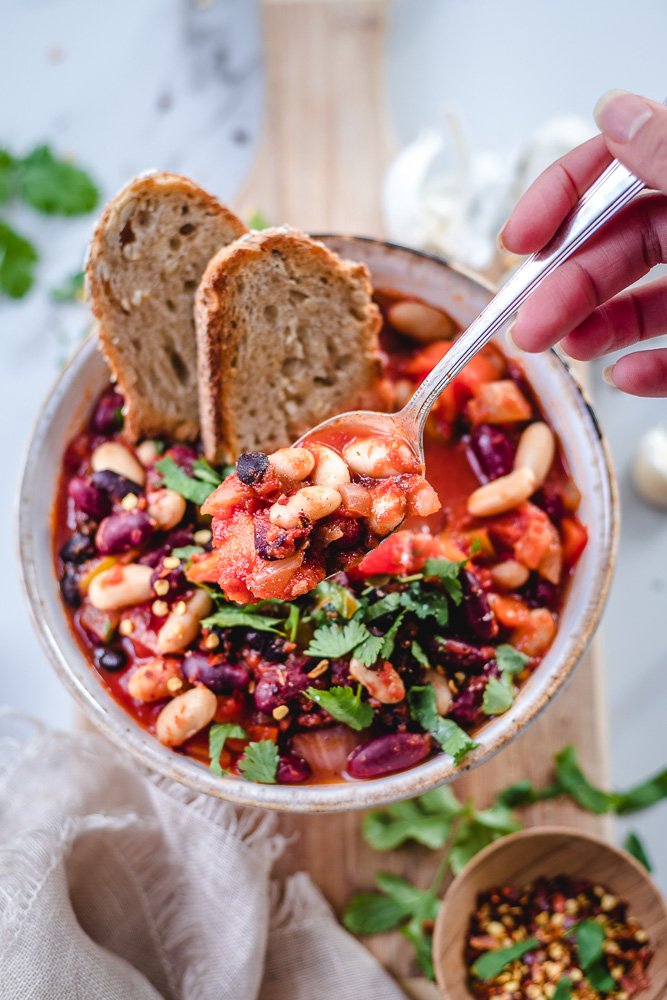 How to make the best vegan chili
The Ingredients
This recipe is simple and straight forward. You will need:
onion
garlic
coconut oil
carrots
bell peppers
kidney beans
white beans
black beans
canned diced tomatoes
chili powder
cumin
paprika
lemon
sea salt
As you can see the ingredients are straight forward and simple. There's nothing funny or strange about this! Which is why I've given it my vegan skeptic stamp of approval. It's likely you already have most, if not, all the ingredients in your pantry!
What is vegan chili made of?
Now, there are tons of vegan and veggie chili recipes, and all have their different take. But typically, a vegan chili is made by substituting ground beef or turkey with beans, simmered in a tomato-based sauce with lots of spices.
As you can see from the ingredient list above, I've decided to go with a three different types of beans: kidney, black bean and white beans.
Of course, you can always keep it traditional and use only kidney beans (swapping my other canned beans for more kidney). Or, feel free to swap the beans for whatever you have in your pantry. I.e. using chickpeas instead of white beans, or pinto instead of black beans.
And of course, it wouldn't be a veggie (or vegan) chili without some veggies! In this recipe I've kept it simple, using onion, garlic, carrots, bell peppers, and canned diced tomatoes.
How do you make vegan chili from scratch?
I cannot stress just how easy it is to make chili from scratch. In fact, it's one of the easiest dinner recipes on the blog. Which is why I have also given it my newbie cook stamp of approval.
The process for making chili from scratch is simple! Start by chopping your veg and cooking on low heat to soften, then add your canned tomatoes, beans and spices and let it all simmer into a thick and delicious chili that you can enjoy with bread, tortilla chips, or scooped onto rice.
That's really all there is to it!
How long does chili last in the fridge?
This chili recipe will last in the fridge for up to one week. Making it a great dish for meal prep. Enjoy for a quick and easy dinner, and for next day lunch.
You can also freeze this recipe to keep for longer. Simply remove from freezer on the day you want to eat it. Let it thaw, and warm on the stove top or microwave.
Other recipes you might like:
If you're digging this recipe, you might also like these comforting dinner dishes:
Shop my kitchen:
I'm often always asked what items I like to use in the kitchen. So, I've included my favourites for making this recipe below. You can also find more of my favourite kitchen essentials and products on my Shop page.
(commissions earned as an affiliate. I only recommend products I know and love).
Cuisinart Chef's Classic Enameled Cast Iron 7-Quart Round Covered Casserole, Cardinal Red
This is the cast iron pot I use to make chili
Miyabi 8″ Birchwood Chefs/Gyutoh Knife
This is the chefs knife I use to cut veg. I love it! This and the pairing knife are the only knives I use.
So there we go, a very simple recipe for the best vegan chili you'll ever have. It's gluten-free and protein packed. But best of all, this recipe is easy to make, and ready in 40 minutes. So you can have dinner on the table pronto, and leftovers for quick lunches. I hope you enjoy it as much as we did.
And, if you do make this recipe please let me know in the comments below what you think! I love hearing from you. And of course, tag me on Instagram with the hashtag #twospoons. Nothing makes me happier than to see your recreations.
In a large pot add onion, garlic, carrots, coconut oil and sea salt. Bring to medium heat and cook to soften (10 mins). Add bell peppers and continue cooking to soften (10 more minutes).

Open canned beans, strain and rinse well. Add beans to pot with canned tomatoes and water. Stir to combine. Bring to a low simmer, then spice chili with cayenne pepper flakes, cumin, and paprika. Add lemon juice and sea salt to taste.

Serve chili in bowls with bread, tortilla chips or scooped onto rice.
Recipe will keep in fridge for up to one week. Meal prep for quick lunch or easy dinners.
Recipe can also be frozen. Store in air tight containers for up to one month.
Nutrition information is a rough estimate. 
Calories:
199
kcal
|
Carbohydrates:
35
g
|
Protein:
10
g
|
Fat:
3
g
|
Saturated Fat:
2
g
|
Sodium:
247
mg
|
Potassium:
913
mg
|
Fiber:
10
g
|
Sugar:
7
g
|
Vitamin A:
8252
IU
|
Vitamin C:
80
mg
|
Calcium:
120
mg
|
Iron:
4
mg