Feb 7, 2020 (Last updated Jun 11, 2020) by Hannah Sunderani
10 BEST places to eat vegan food in Kauai Hawaii
Here's a new vegan travel guide for ya! I'm sharing the 10 BEST places to eat vegan food in Kauai, Hawaii. Certainly, this travel destination is a vegans paradise! In fact, this trip was one of the easiest to find plant-based foods, and most tasty vacations I've taken to date!
No doubt, there are numerous places to eat vegan in Kauai. From food trucks, to cafes and restaurants offering an arrange of colourful dishes for plant-based foodies. Surely, you won't be going hungry. Think dishes like vegan buddha bowls, vibrant and colourful salads, acai bowls, tropical smoothie bowls, shave ice, and unique juices and kombucha. And, don't get me started on their quality coffee and chocolate. Most definitely, Kauai Hawaii isn't just about beautiful nature and stunning views – it's about good food too!
And when it comes to good, Hawaii is famous for its trendy food trucks. There are so many food trucks here dishes out the freshest organic dishes with purpose. And I will be getting into my favourites below. But, in addition to food trucks, there's also noteworthy restaurants, cafes and wine bars if you're looking for a more classic experience sans bathing suit. But what's best about dining in Kauai is how these food spots are putting the planet first: by supporting local and organic farming, sustainable sourcing and plastic-free packaging. We can all learn a little more from the Hawaiian way of life.
See my list below for the top 10 BEST places to eat vegan in Kauai. I'm sharing the best food spots to eat vegan from North Shore to South Shore. Surely, you will fall in love with Hawaii's plant-based food scene as much as I did.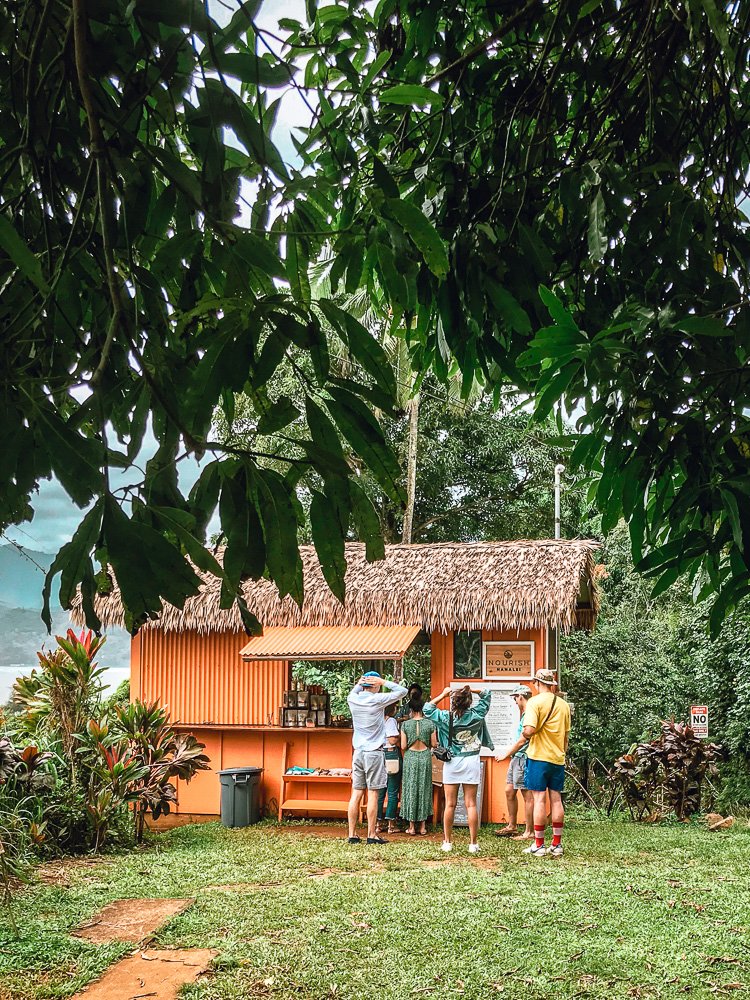 10 BEST places to eat Vegan in Kauai, Hawaii
First on my list for best places to eat vegan in Kauai is Nourish Hanalei. This farm stand is a must-visit! Located on the North Shore in Hanalei, it's one of the only 100% plant-based food joints on the island. And trust me, even non-vegans will love it. From savoury bowls, to smoothie bowls and sweets – it pleases all palates. We went with a big crowd of mixed eaters and everyone loved their meal.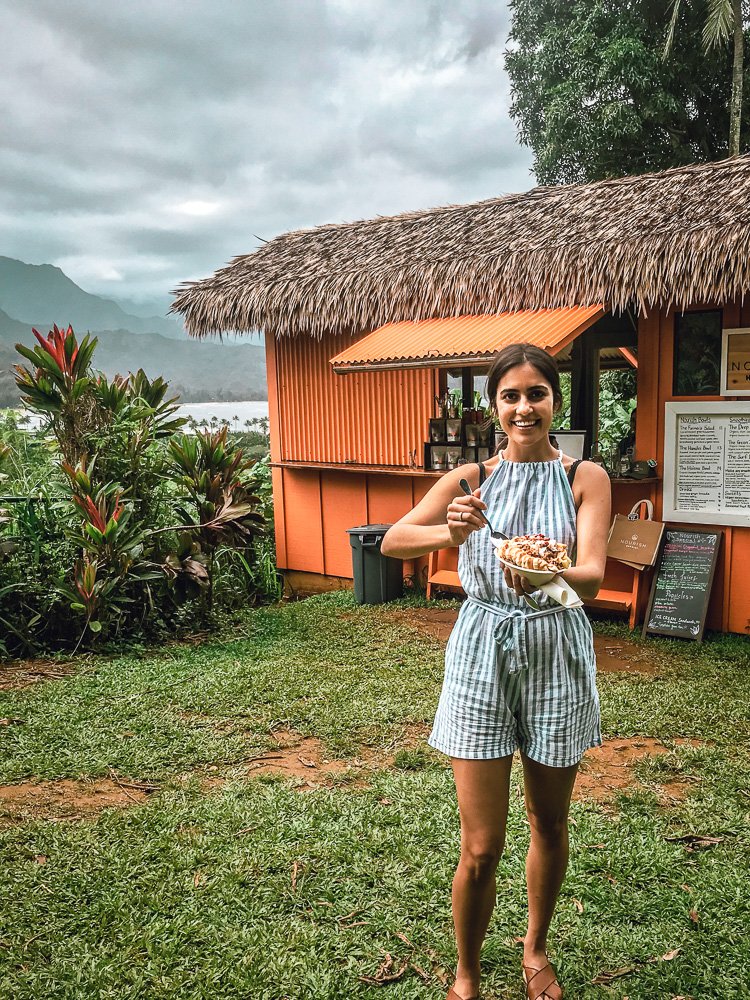 Nourish Hanalei was created by three North Shore sisters with the goal to feed their community, with food that is sourced consciously, created with love, and contains only wholesome ingredients. It's a beautiful initiative, and the staff running the farm stand are as sweet as their mantra.
As for the food – it will blow you away. The dishes are mighty nourishing and so fresh. You'll feel good about devouring these healthy bowls. We ordered acai bowls, a falafel bowl, coffee, smoothies and fresh juice. Everyone was so pleased with their dishes.
But it's not just the food at Nourish Hanalei that's so memorable. The views are some of the best on the island. Take in the beautiful peaks and valleys of Hanalei. No doubt, this space is as surreal as they come.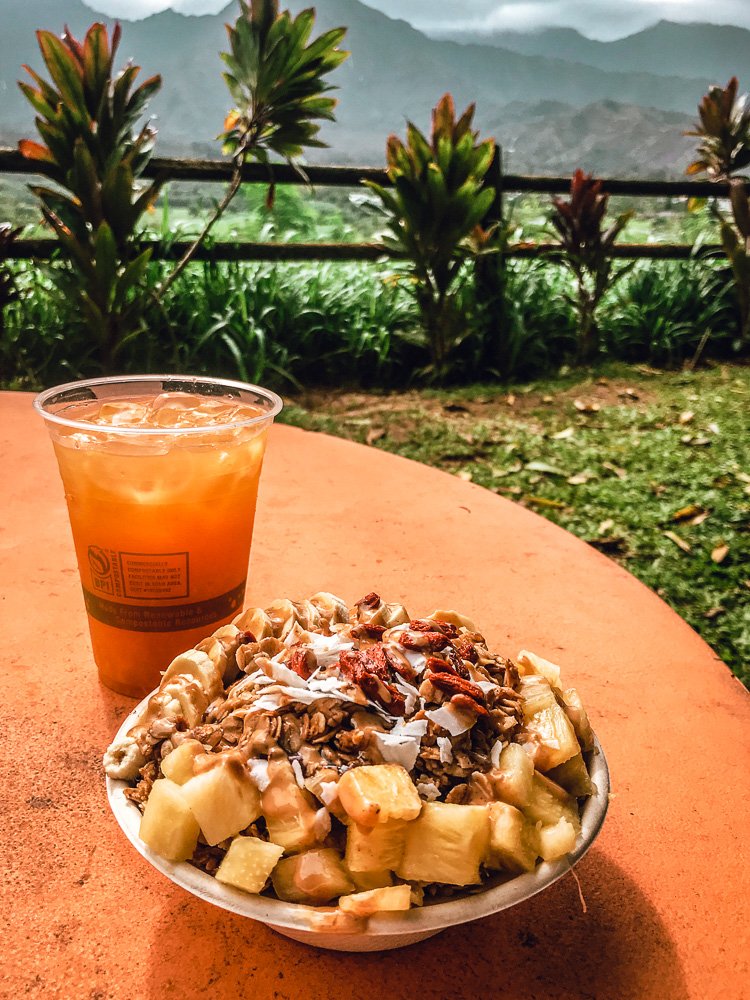 Second on my list for best places to eat vegan in Kauai is Wishing Well Shave Ice, in downtown Hanalei, North Shore. This is a great place to start your day. Enjoy a coffee and açai bowl, or take joy in their impressive shave ice.
In fact, this food stand is famous for its shave ice; and for good reason. The look alone will wow you. I'm still wrapping my brain on how they formed the shave ice into giant circular balls with colourful toppings. Not to mention, the flavours are unique, tropical and so delicious. It's far different from the sugary snow cones I remember as a kid!
Wishing Well Shave Ice is not entirely, vegan. So be sure to let them know and they'll recommend the best vegan dishes, or modifications to dishes that intrigue you. I recommend to take their Tropical bliss shave ice and their açai bowl, called "The Works," (which they generously drizzle peanut butter on top of). This food join is top of my list for best acai bowls and shave ice on the island!
Wishing well is also centrally located, based in downtown Hanalei. It's close to the beach, surf shops, shopping and other popular places to eat vegan in Kauai, right on the main strip. I highly recommend to check out this stand as you're passing through downtown Hanalei.
Another food joint on the list of best places to eat vegan in Kauai is Hanalei Bread Company. It's an organic bakery and coffee house, also located in the heart of downtown Hanalei, North Shore. This is more of a traditional cafe, with front porch seating. It's so pretty and zen.
If you're into good coffee, you will find it here. But they also offer freshly baked breads, pastries, breakfast and lunch. Again, it's not entirely vegan, but there are delicious vegan options. I recommend their avocado toast on thick sourdough bread with micro greens. Buy a loaf of their freshly baked bread to take home with you so you can enjoy this avo toast whenever suits you.
Although this cafe is more pricey than other food spots, the food and ambiance makes it a great spot to relax and re-energize. The staff is also very friendly, and it's located right on the strip. Enjoy a bite at Hanalei Bread Co. and take a wander in the sea side shops.
Fresh Bite is a MUST visit while you are in Kauai. It's on the North Shore. located (again) in downtown Hanalei. This is a food truck you won't want to miss out on. The food boasts fresh farm to beach, colourful and organic dishes. Certainly, there are are lots of options for healthy foodies.
It's not entirely vegan, but there are tons of plant-based items on the menu. All-in-all it's a great place to take a crowd that likes to eat healthy. I got their buddha bowl, and I'm still dreaming of the macadamia nut sauce! I highly recommend it. It's the best one I had on the island. My husbands got their chop lee wrap and loved it. They're also got tons of tasty sides for sharing, delicious drinks and sweets.
Fresh Bite is situated in a really fun space amongst other food trucks, which gives it a buzzing ambiance. Sit at one of the picnic tables and enjoy the community feel. Don't forget to hit up the Holey Grail Donuts food truck for dessert (more on that to come).
Certainly, one of the best places to eat vegan in Kauai is at Leahi Health. It's a popular plant-based chain with a few location around the island. (I visited their newest location on South Shore, Koloa). Popular for its colourful and unique budda bowls, delicious vegan tacos, and wide-range of smoothies and drinks. This food joint is a plant-based food lovers paradise.
Leahi Health uses organic ingredients in all their beverages, sandwiches and salads; and they even make their own kombucha! We ate the tuna mock bowl and the baja bow. To drink, we took the deep green and green monster smoothie. Everything was so fresh and flavourful. Needless to say, we devoured it.
The vibe at Leahi Health Koloa is not-fussed. And the staff are super friendly! There isn't much seating at the Koloa location, but they have a couple chairs on the side patio and some bar seating at the front. I'd recommend to grab a bowl to go. Enjoy for a picnic on the beach.
Hands down, Holey Grail Donuts are the best on the island, and they're entirely vegan! This is 100% a must try for best places to eat vegan in Kauai. The food truck is situated amongst others, off the main strip of Hanalei. The donuts are made from taro, and fried in coconut oil. The verdict; they're as tasty as they come.
Plus, Holey Grail Donut offers unique flavours; like lemon, raspberry, and classic sugar dip. I recommend to buy their four-pack box. You'll get to try all the flavours they are offering, which rotate depending on the season.
Another thing I loved about this donut shop was the portion size. They're not too big, so you can enjoy a donut for dessert without feeling glutinous. They also have really tasty coffees and iced coffees. Try their iced wellness drinks, like iced matcha and turmeric iced latte. This is a great spot to reward yourself after surfing the waves at Hanalei Bay.
Kalalea Juice Hale, located in Kalalea is a popular breakfast stop amongst locals. It's a locally owned juice bar with organic cold-pressed juices, smoothies, shave ice, coffee & açai bowls. You can also customize their bowls with various toppings and nut butters to make it your own.
Located right off the main road, it's a great place to stop for breakfast as you drive from North Shore to South Shore. We stopped on our way down south to Waimea. It was the perfect sustenance before our canyon hike.
The little stand is cute as can be, with orange walls and picnic table seating. Plus, it's got a beautiful backdrop of the Kauai mountains.
Kilauea Market + Cafe is new to the island. It's a full-service grocery store and café on the North Shore of Kauai, in Kilauea. The cafe serves coffee, beer, wine, fresh prepared foods and made-to-order specialties.
Think of Kilauea Market as your local Wholefoods. This grocery store is pretty as can be, with your favourite organic brands. I love going into grocery stores in different cities (is that weird?) and thoroughly enjoyed taking a wander around.
The staff at the cafe are warm and sociable. We loved chatting with them. And the food is really good. It's fresh and clean, and very well priced! (Hawaii in general is expensive. But here the dishes were very reasonable!). Although the cafe is not entirely plant-based, they have vegan options. The staff will be happy to walk you through the menu and make suggestions. I recommend their avocado toast on sourdough bread! It was my favourite avo toast I had on the island.
Come here to grab a bite, and do your grocery shopping. Either grab some items to-go for a picnic, or if you're staying in an Airbnb then do a full shop for lunch and dinner. The market is also located in the same plaza as Metamorphose Yoga Kauai, so it's a great place to finish your morning yoga practice.
No doubt, Hawaii is known for its awesome food trucks and cafes, but there are some really nice restaurants too. Certainly, PV Eats was my favourite dining experience on the island.
PV Eats is a locally-owned neighbourhood market, wine bar & restaurant that features curated flavours from Hawaii and around the world. The restaurant is not entirely plant-based, but there are vegan options. All-in-all it's a great place to bring a mixed crowd. If you're vegan, I recommend to order the vegan beet poke bowl. It was insanely delicious, colourful and beautifully presented! I don't have a photo here because the lighting didn't do justice just how pretty it was, but trust me – it's a must try.
Certainly the food at PV Eats is gourmet. I went with my husband and his parents (who are not vegan) and they loved it! There's a nice range of healthy dishes and comforting dishes to suit a mixed crowd.
I also love how they've used the space at PV Eats. The front of the shop is a small grocers where you can grab items to go, and the side wall boasts a beautiful wine bar. They have an impressive wine selection too. At the back you'll find the dining, with floor to ceiling glass windows. The views showcase a private golf course. It's lovely ambiance. And the staff are warm and friendly.
I recommend to come here for dinner. Enjoy the wine, ambiance and views.
If you're into tasty juice and kombucha, you're going to love Kauai Juice Co. A road trip just wasn't the same without one of their drinks in hand.
There's a few locations around the island as you travel from North Shore to South. I visited their juice bar in Kappa. Although you can find their juice at grocery stores on the island, I recommend to visit one of their juice bars to have access to their wide range of drinks. Plus, the interior spaces are so pretty and sweet. The one in Kappa had beautiful wood panelled walls and colourful flowers. Grab a drink here and walk along the coast.
My favourite thing about Kauai Juice Co. is their kombucha on tap! They've got unique and delicious flavours like strawberry + vanilla, turmeric + ginger and so much more. We all know kombucha can be expensive, but this juice bar is well priced. And you can return the glass jugs for a small refund.
There is also a fridge at the front, which offers some delicious meals-to-go; like soba noodle salads and raw treats. This is a perfect stop for a pick-me up.
Conclusion
So, now you know exactly where to eat vegan in Kauai! With this list of 10 BEST places to eat vegan in Kauai, Hawaii – you won't go hungry! I'm certain you will love these food joints as much we did.
And, if you like this review of Kauai, you might also like these travel guides:
And, if you do visit any of these food spots in Kauai, let me know what you think of them in the comments below. I love hearing from you! Enjoy Kauai to the fullest, and the vibrant plant-based food scene they offer. It's a trip to remember.