Nov 5, 2019 (Last updated Sep 28, 2022) by Hannah Sunderani
Easy Vegan Mac and Cheese (GF)
Introducing the Best Easy Vegan Mac and Cheese recipe you'll ever need. You heard that right, it's vegan and gluten-free. And as you can see the sauce is thick, rich, velvety and smooth. It's full of cheesy flavour and stringy consistency that's so comparable to the real stuff. And this recipe can be made in less than 20 minutes.
I've served mine on chickpea pasta with fried sage leaves to top. It's a simple recipe that's so gourmet. Young or old, vegan or not you're going to love this easy vegan mac and cheese.
Now, let me tell you exactly how to make it.
The Best Easy Vegan Mac and Cheese (Gluten-free too!)
What is this vegan mac and cheese made of?
The ingredients in this recipe are simple and straight forward. For a quick and easy vegan mac and cheese recipe that you can pull together effortlessly for lunch or dinner.
Most vegan mac and cheese sauces require cooking potato and carrot first, and then blending with other ingredients to make the vegan cheese sauce. But, I wanted a recipe that could be made with little to no preparation, and that required as little effort as possible. Yet, not compromising on taste. When we thick of mac and cheese we think fast and easy, and that's exactly what this recipe is.
And, I don't mean to toot my own horn, but I nailed it with this cheese sauce recipe. The sauce for this easy mac and cheese is thick and creamy, silky and smooth. Most importantly it's ultra cheesy. Its taste and texture are on point for a stringy cheesy sauce to add to pasta. There's no finicky steps or ingredients in this recipe, no pre-cooking potatoes or carrots. Simply blend and warm.
The ingredients for my vegan mac and cheese sauce are:
raw cashews
almond milk
nutritional yeast
garlic powder
onion powder
sea salt
lemon juice
arrowroot powder (or you can use tapioca flour) – important for thick and stringy consistency
turmeric (optional – for colour)
Topped on gluten-free chickpea pasta (I like it for its higher protein content, but you can use whatever pasta you prefer) and finished with crispy fried sage leaves; this is a weekday pasta recipe to be remembered. I challenge you to serve this to any vegan skeptic – certainly they will fall head over heels. This dairy-free mac and cheese is a crowd-pleaser for all eaters, which is why I have given it my skeptic and kiddie stamp of approval.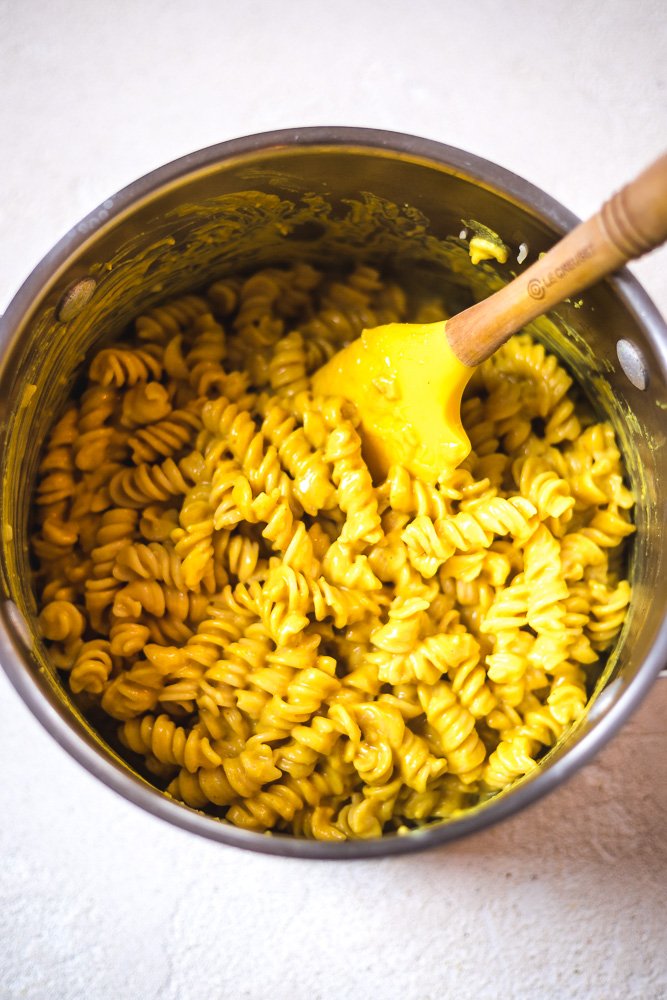 Tips for making this easy vegan mac and cheese
Making this vegan mac and cheese is really straight forward. But a few tips will help you nail the recipe for perfect cheesy consistency.
First step: blending
The first is to blend your ingredients in an electric mixer, and then transfer to your saucepan to warm. Much like my vegan gravy recipe, you want to make sure the ingredients are well blended so that they don't get chunky in your saucepan. Blending in an electric mixer will ensure all ingredients are combined and consistency is smooth.
For this reason I've also soaked the raw cashews in advanced. So that they blend easy into a smooth consistency. It's a simple step that you can do overnight, or if you forget you can pour hot water over them and leave to soak for 1 hour. I've also made this recipe this without soaking the cashews and blending in my high performance blender (Vitamix). The consistency was still smooth and velvety. But I recommend to soak to ensure a 100% smooth blend, especially if you're using a standard kitchen blender.
Second step: warming
After blending you will transfer the liquid to a saucepan to warm on the stovetop. This is where the liquid will thicken into a cheesy and stringy consistency. (It's the arrowroot powder that allows it to thicken like this). It's important to watch closely, and stir often to avoid the cheese sauce from clumping. (Just as you would traditional cheese sauce). Whisk while warming until the sauce has reached desired consistency. It should take no more than 10 minutes.
If the cheese sauce gets too thick I recommend to add splashes of reserved pasta water (the starchy water your pasta is cooked in). This can be done while it's still in the saucepan, or after added to the pasta. Be sure when draining your pasta to place a heat-proof bowl in the sink to catch the pasta water. Then add splashes pasta water to thin the cheese sauce if desired. I used about 1/2 cup total reserved pasta water, and added it in splashes at the end when the sauce and noodles were combined. Pasta water helps to thin your cheese sauce while also giving it a silky texture. If you forget to reserve the pasta water you can add splashes more almond milk.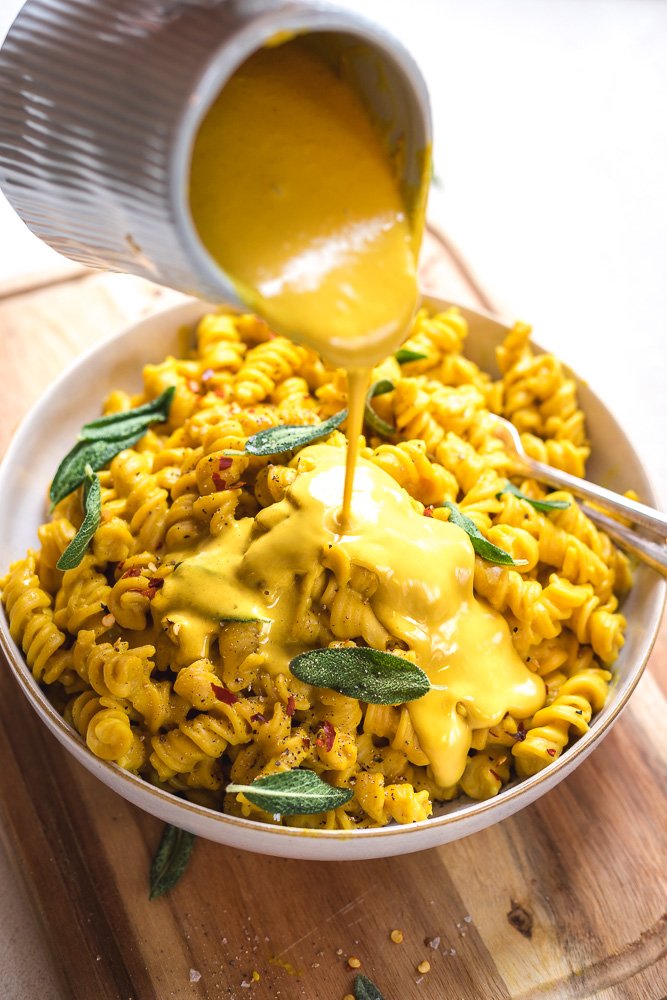 Other recipes you might like
If you're digging the recipe for my Easy Vegan Mac and Cheese you might also like these recipes:
Shop my kitchen
I'm often asked what items I like to use in the kitchen. So, I've included my favourites for making this recipe. You can find more of my favourite kitchen items on the shop page.
Vitamix A2500 Ascent Series Smart Blender, Professional-Grade
This is the blender I have. Which was used to blend the vegan mac and cheese sauce. Although, any standard mixer will work for this recipe.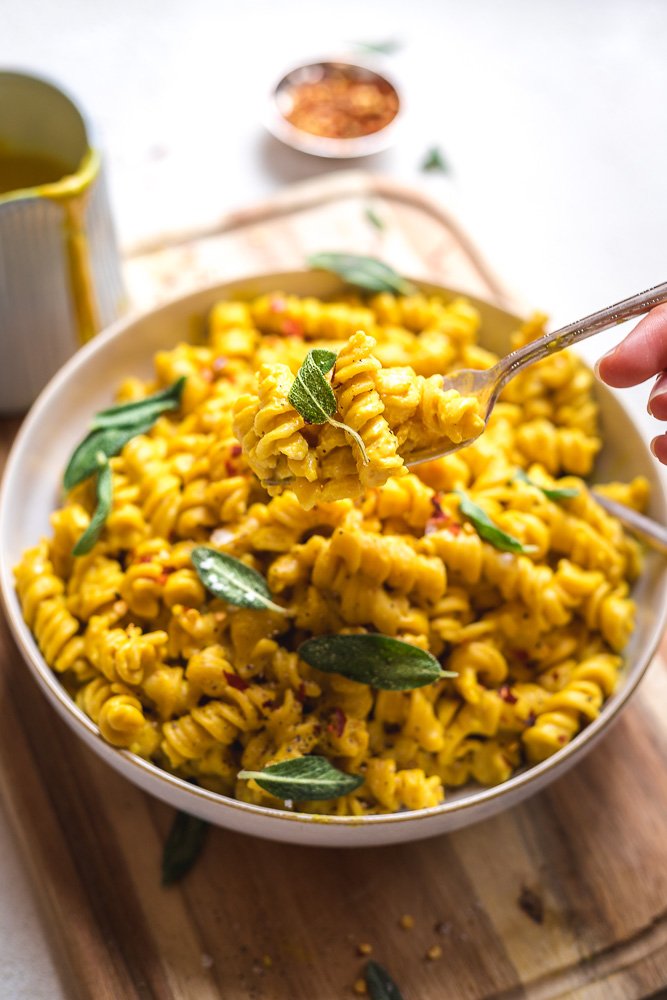 So there we have it. The best and easiest vegan mac and cheese recipe you'll ever need. Enjoy for a quick and easy dinner under 20 minutes. This mac and cheese is so creamy and comforting, ultra cheesy and velvety smooth. I think you're going to love this recipe as much as we do.
And, if you do make this recipe please let me know in the comments below what you think! I love hearing from you. And of course, tag me on Instagram with the hashtag #twospoons. Nothing makes me happier than to see your recreations.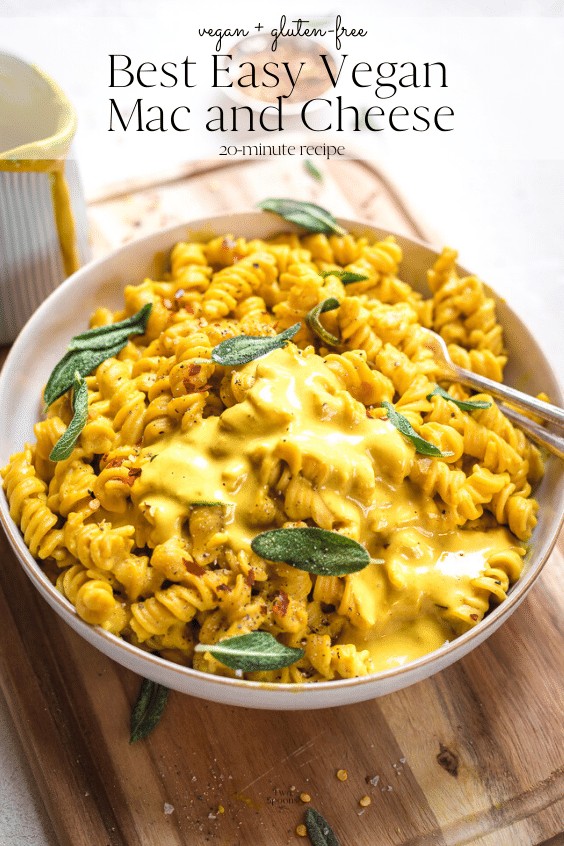 For the mac and cheese sauce
1/2

cup

raw cashews

(soaked overnight, or at least 1 hour)

2

cup

almond milk

1/2

cup

nutritional yeast

1

tsp

garlic powder

1

tsp

onion powder

1/2

tsp

sea salt

1

lemon

, juiced

3

tbsp

arrowroot powder

(or you can use tapioca starch)

1

tsp

ground turmeric

1/2-1

cup

reserved pasta water

(optional to thin)
For the pasta
4-5

cups

chickpea pasta

(or pasta of choice)

10-12

sage leaves

2

tsp

coconut oil

sea salt and pepper

, to sprinkle
Strain raw cashews and add to blender with almond milk, nutritional yeast, garlic powder, onion powder, sea salt, lemon, arrowroot powder and turmeric. Blend on high for 1 minute, or until smooth and combined.

Transfer liquid to saucepan and bring to medium heat. Warm cheese sauce stirring often with a whisk, until it thickens to desired consistency (about 10 minutes).

Meanwhile add chickpea pasta to boiling water. Cook for 3-6 minutes, or until just al-dente. Place a large heat-proof bowl in sink and strain pasta, catching some of the reserved pasta water in the bowl. Add pasta back to pot.

Pour cheese sauce overtop pasta and gently fold to combine. Option to add splashed reserved pasta water to thin mac and cheese if you find it too thick. (I used about 1/2 cup reserved pasta water added in splashes).

In a skillet add coconut oil and bring to medium-high heat. Fry sage leaves for 2-4 seconds, lay on paper towel to absorb any excess oil and sprinkle with a bit of sea salt. Transfer pasta to bowls and top with fried sage leaves, sprinkle with more sea salt and pepper.
I recommend to soak cashews overnight. But if you forget this step you can pour boiling water into bowl and soak cashews for 1 hour. I have also made this recipe without soaking the cashews and still had smooth and velvety consistency using my Vitamix. But I still recommend to soak to ensure consistency is 100% smooth, especially if using a standard kitchen mixer.
Pasta reheats nicely for leftovers. Keep in fridge for up to 3 days.
Vegan cheese sauce will keep in fridge for up to 5 days, reheat in saucepan and whisk often while working to ensure smooth consistency. Add splashes almond milk if needed to thin when reheating.
Nutritional information is a rough estimate.
Calories:
777
kcal
|
Carbohydrates:
120
g
|
Protein:
52
g
|
Fat:
21
g
|
Saturated Fat:
3
g
|
Sodium:
566
mg
|
Potassium:
220
mg
|
Fiber:
29
g
|
Sugar:
18
g
|
Vitamin C:
11
mg
|
Calcium:
263
mg
|
Iron:
19
mg